Ted Cruz Will Give You Your Very Own 'Trump University Certificate of Deception'
Meghan McCain called this election the "worst ever," but to others, it's been entertaining, lucrative, and plain fun. This recent move by Ted Cruz's campaign, though, doesn't feel all that presidential. Over at his website, fans and supporters can now make mock Trump University "Certificates of Deception."
Trump U was once a collection of seminars that Donald Trump is now being sued over.  It appears that some customers were none too satisfied with with their post-course results, or lack thereof.
Get your own #TrumpUniversity certificate of deception here —> https://t.co/BwfVMBbHfU pic.twitter.com/QeeU9ZAtxu

— Ted Cruz (@tedcruz) March 3, 2016
In the interest of being a supreme informational conduit, I clicked the link Cruz tweeted out. It took me here. I noticed that in the large block of text, there is a call to "sign the petition to stand against Trump's money-grab and get your personal diploma from 'Trump University.'" Oh, okay, I get it; it's just another way to get our email addresses so we can wake up every day to more "I'm not kidding, Maddi" madness.
Still, I did it. Behold!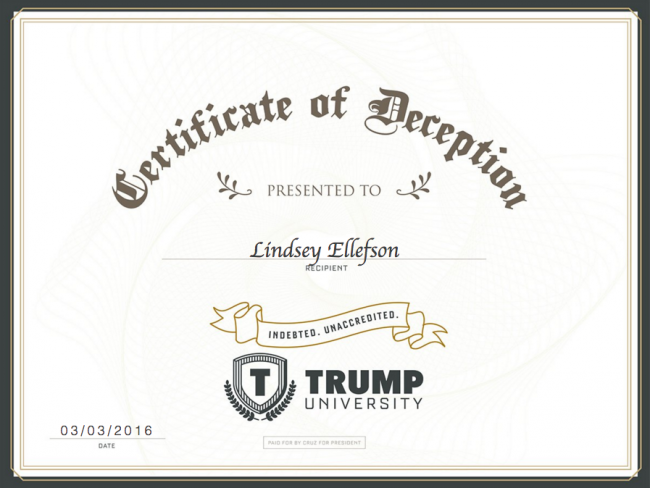 Cool!
Except not everyone thought it was as amusing as I did.
@tedcruz Trump University had a 98% approval rating from its own attendees&had an "A" rating from BBB. Ted has a problem w/ truth #desperate

— Rambo Braveheart (@tdltdltdltdl) March 3, 2016
@tedcruz Pure desperation at this point, Ted..

— Youth 4 Trump (@SoCal4Trump) March 3, 2016
@tedcruz this is exactly the reason you lost my vote.. I was undecided until recently but you approach is disgusting.. Now i am supporting T

— mike p (@map_2009) March 3, 2016
Finally, this bonkers exchange:
. @tedcruz whoa pic.twitter.com/prLW3eb4Vs

— EddieMSparkles (@EddieMSparkles) March 3, 2016
@EddieMSparkles @tedcruz holy shit what an own

— Athens Grease (@Athens_Grease) March 3, 2016
@EddieMSparkles @tedcruz when u get owned by Eddie Sparkles pic.twitter.com/GXhirvVkrA

— Athens Grease (@Athens_Grease) March 3, 2016
On that note, there are 249 days until the general election.
[image via screengrab]
For more from Lindsey, follow her on Twitter.
Have a tip we should know? tips@mediaite.com