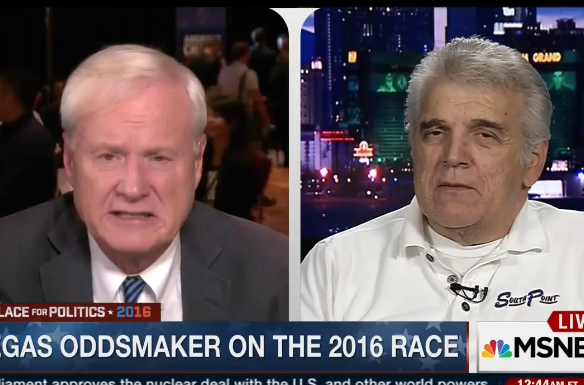 If you were writing a book about Las vegas bookmaking, you would probably give your protagonist the name Jimmy Vaccaro, right? Luckily for him, he has worked for nearly 40 years doing just that.
This has been a busy week for Vaccaro, who has appeared on a number of television shows as the CNN Democratic Debate was held at the Wynn Hotel and Casino. On Tuesday night he appeared on the post-Debate special of Hardball with Chris Matthews, and it was clear that he and Matthews bring two very different style of intellects to the table.
Contrasting with Chris Matthews' overt smarts on all things Presidential history (Matthews ends the segment with an obligatory George Washington reference), Vaccaro displays an extremely sharp mind on the gambling and odds-making circuits, both domestic and international. After Tuesday night's debate, Vaccaro — who Matthews referred to as "the most legendary bookmaker in Las Vegas" — noted that the odds-favorite was still Hillary Clinton.
"You don't over or under react to one meeting — it's like the March madness, you gotta win six games. Hillary was the favorite so she had a pretty easy first round."
As if prognosticating which struggling NFL teams would likely fall short of the playoffs, Vaccaro noted, "It's a shame Webb and Chafee aren't gonna be around for the second [debate].
MATTHEWS: What do you think about these polls we had on here tonight, earlier tonight, before the debate? That show that Biden does better in a head-to-head in the general, against all the Republic candidates?

VACCARO: Well I don't know where you get these polls from, Chris. I don't know where they come from, who makes them up, I always hear the word 'scientific'…

M: Well they're national polls sir… they're usually Quinnipiac, or Gallup or one of the major polls.
The half-joking conversation that most contrasted the styles in intellect between Matthews and Vaccaro came on the question of "smart money" and gambling patterns as a better predictor than traditional polls. Essentially: are the street smarts of politics more effective than the book smarts? Vaccaro wasted no time, replying, "Absolutely. Money changes everything." He also noted how the role of regulated gambling around political outcomes might encourage more people to become involved. Republican candidate Marco Rubio has stormed ahead with the odds-makers as well, currently sitting at 1/5 odds.
Vaccaro also noted that Vice President Joe Biden has a 1/2 odds of entering the race for the Democratic nomination.
Check out the above video from MSNBC.
[image via screengrab]
—
>> Follow J.D. Durkin on Twitter (@MediaiteJD)
Have a tip we should know? tips@mediaite.com