The August 11th edition of TIME Magazine included an artistic depiction of Republican nominee Donald Trump, citing the fact that his burn-all-bridges attitude with Republican leadership at the time was leading to a "Meltdown."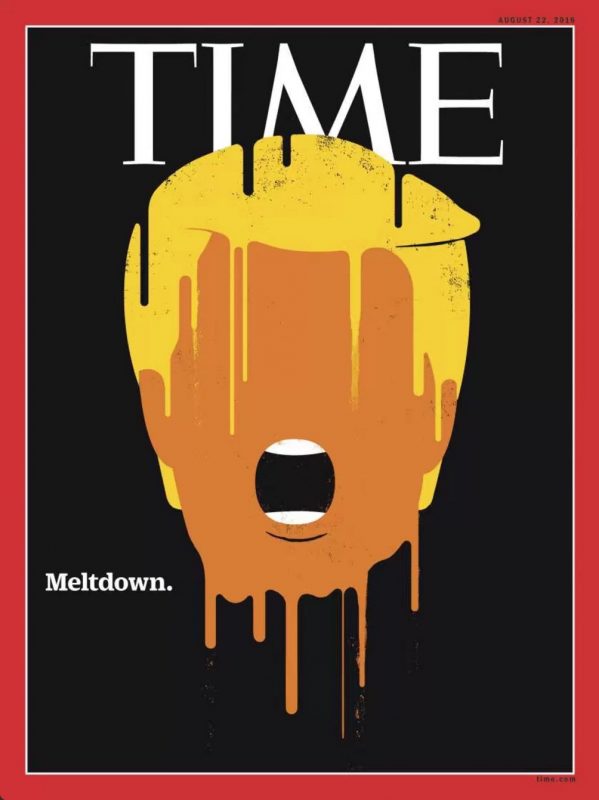 The Washington Post's Callum Borchers described the cover as looking as if, "someone took a flame thrower to the face of Trump's wax statue at Madame Tussauds." And it wasn't even the first time this year that the real estate mogul turned politician graced the iconic red banner cover; during the primaries, they deemed him as a "bully, showman, party crasher, [and] demagogue."
"Look at that picture of me on Time," he bragged at the time. "It's a movement! Isn't that an amazing picture? It's been a lot of fun."
Well, he's not likely to brag about the newest TIME installment. The magazine brought back its August cover for an updated version about the state of his face waxiness, illustrated by Edel Rodriguez:
TIME's new cover: Inside Donald Trump's total meltdown https://t.co/3YstGtYpDK pic.twitter.com/VQ2km55Cwy

— TIME (@TIME) October 13, 2016
The cover story, written by Alex Altman and Philip Elliott, details the continued unraveling that has been brought upon the Trumpster in the days since the leaked Access Hollywood video with Billy Bush. They write in part:
Trump once said on the campaign trail that he would approve of torture as President, "even if it doesn't work." With four weeks left to Election Day, he seemed to be testing the proposition on the public. Unshackled, he flirted with unhinged and erased the emollient line between a campaign aimed at the base and one intended to debase.
Any classic comedy sketch involves what's know as the "The Rules of 3's," three distinct beats of heightening action as the bit plays along. If the August and October TIME Magazine covers are the first two beats of the bit… where the hell are we headed for the third installment?
Have a tip we should know? tips@mediaite.com