In 2006 Al Franken Was An Influential Political Talk Radio Host, Not 'Just A Comedian'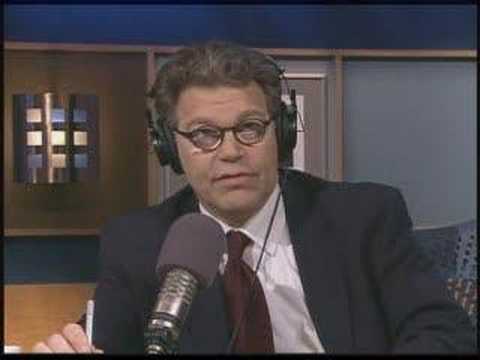 "He was a comedian then, not a Senator." How many times have we heard that from the media over the past 24 hours in describing Leeann Tweeden's allegation that Al Franken forced himself on her and groped her in 2006?
He was just a comedian, we hear. He wasn't a Senator. Just a comedian. But he wasn't. He was, in fact, an influential political talk radio host who used his program to build a national base upon which he launched his 2008 senatorial campaign.
Franken hosted his three-hour talk show on Air America, the liberal talk radio syndication enterprise launched in 2004 with Franken's The O'Franken Factor (Later The Al Franken Show)as its most prominent program running from 12-3PM ET, directly opposite Rush Limbaugh.
The program ran right up until Franken launched his campaign for Senate and he interviewed politicians and pundits and thought-leaders from the left like Bernie Sanders, Howard Fineman, Lawrence O'Donnell, David Brock and Paul Krugman. He would rail against then-President George W. Bush, the war on terrorism, Republicans, conservatives… it was a lot like his time in the US Senate.
It had some comedy too, but make no mistake, this was a political talk show and it was more about news and a political agenda than it was about cracking jokes.
In fact, Franken said the entire reason for launching the show in 2004 not for laughs and not for displaying his skills as "just a comedian." No, the reason was purely and entirely political. "I'm doing this because I want to use my energies to get Bush unelected. I'd be happy if the election of a Democrat ended the show," he told the Los Angeles Times at the time.
In 2006, Franken was still hosting that show at the same time he was forcing himself on Ms. Tweeden and groping her while she slept.
I understand that pretty much everything connected with the failed enterprise known as Air America has been easily forgotten and most in the media would love to wish it away down the memory holes of oblivion. After all, when it was launched it was supposed to finally break the corrupt stranglehold of Limbaugh and Sean Hannity on the public airwaves across America.
But it didn't. It failed and it failed miserably. But, it could claim one major victory. It launched the political career of it's biggest star, Al Franken. It can reasonably be argued that Franken would never have been taken seriously as a political figure or elected official if he had not gone through the exercise of hosting a political talk show every day for three hours interviewing influential politicians, pundits, and reporters.
In 2006 Franken was not "just a comedian" he was grooming himself for political office and he was cozying up to the very journalists who would later cover him on the trail and in office.
If it's true that Limbaugh and Hannity and Mark Levin are more than just radio hosts and actually have a direct influence on the American political landscape (and I believe that is true) than the media should stop dismissing Franken in 2006 as "just a comedian."
This is an opinion piece. The views expressed in this article are those of just the author.