Trump's Going All Out to Silence Stormy Daniels Because He Knows if You Believe Her Claim, You'll Believe Them All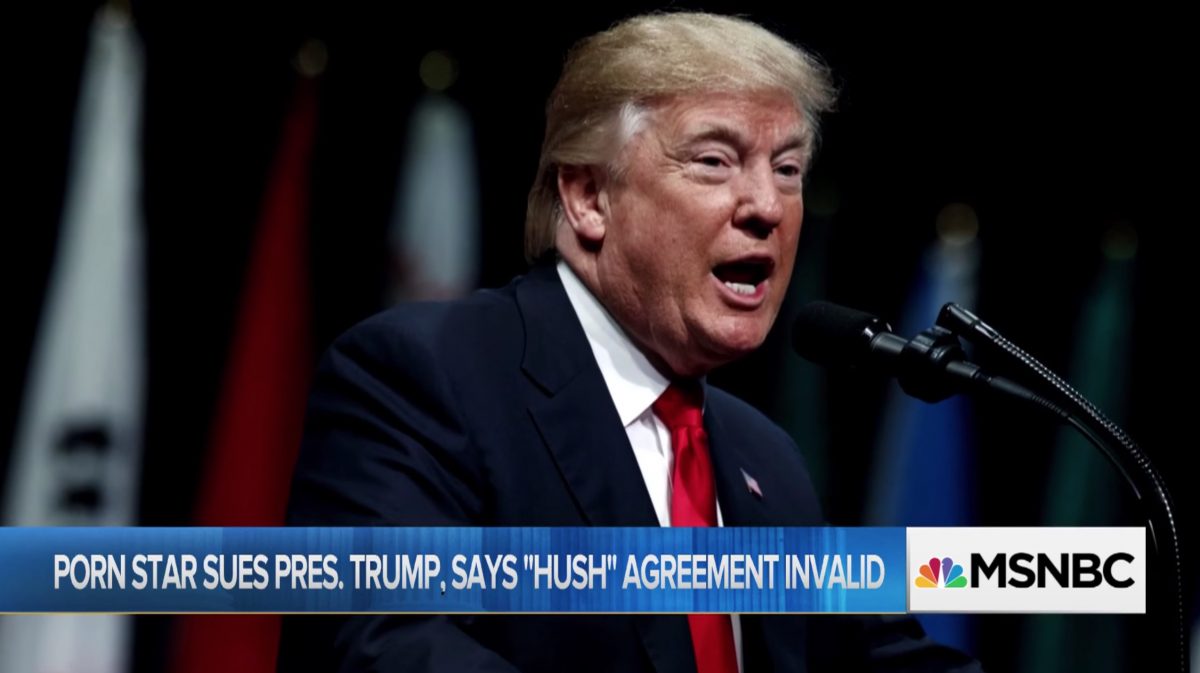 The way President Donald Trump apparently celebrates today's International Women's Day is by trying to bully and silence a woman. That woman is former adult film star Stormy Daniels, whose real name is Stephanie Clifford, and who alleges she had an affair with Trump.
Or maybe the efforts by Trump's personal lawyer and fixer Michael Cohen to "intimidate" Clifford and "shut her up," as Clifford's lawyer put it, was just the way Team Trump commemorates Women's History month.
In any event, the desperation and panic we are sensing from Trump world over Clifford wanting to openly tell her story about having her affair with Trump is because they get the nightmare scenario that could unleash. What is it you ask? Simple, if Americans believe Clifford, it's likely that more will then believe the other 18 women who have bravely come forward to share how they were subjected to sexual misconduct by Trump.
Suddenly these 18 women Trump dismissed as "liars" to the cheers of his supporters at an October 22, 2016 campaign rally, will be seen in a different light. People who gave Trump the benefit of the doubt — such as the 52 percent of white women who cast their ballots for him in November 2016 — may actually now consider the stories of these women with clear eyes, especially given the impact of the #MeToo movement.
That's why Cohen in late February frantically sought and obtained a restraining order to silence Clifford so she would be legally prevented from speaking publicly about her affair with Trump. And as Clifford alleged in her lawsuit filed on Tuesday, her relationship with Trump wasn't something from the movie Indecent Proposal where Trump, a la Robert Redford offered her a million dollars to have sex with him one time. Rather, Clifford explains in her complaint that she began an "intimate relationship with Trump in the summer of 2006," which continued well "into the year of 2007." (As a reminder, Trump married Melania in 2005 and their son Baron was born on March 2006.)
Consequently, Cohen wanted to protect his most prized client Trump. He understandably feared that many — including even some Trump supporters — might start to believe all the other women who came forward when they not only heard the details about the affair but also read the terms of the agreement where Clifford was paid $130,000 in "hush money" in exchange for not disclosing information about her intimate relationship with Trump.
That agreement was signed on October 28, 2016, just days after Trump had publicly called the other women who came forward "liars" and vowed to sue them. But the agreement's terms make it clear why Trump couldn't simply do the same with Clifford. The agreement required Clifford to "divest" herself of any items in her possession sent to her by Trump including "still images, e-mail messages, text messages, Instagram messages," and the list goes on.
The agreement also barred Clifford from publicly disclosing any information she learned from Trump pertaining to "his children or any alleged children." Plus, she was not permitted to disclose information she learned from Trump about his "alleged sexual partners" or "alleged sexual conduct" including "paternity information."
A reading of that agreement tells you that Clifford possessed not only intimate details about Trump but also physical proof of their relationship.
Given these facts, do you have any doubt some will now finally believe journalist Natasha Stoynoff who told us that in 2005 at Mar-A-Lago Trump sexually assaulted her as she put it, by "pushing me against the wall and forcing his tongue down my throat."
Same for Rachel Crooks, who explained that in 2005 when she was 22-years-old, Trump grabbed her and forcibly kissed her without her consent. And suddenly the story of Summer Zervos, who told us that in 2007 Trump "grabbed my shoulder and began kissing me again very aggressively and placed his hand on my breast" will be seen as more believable. For the record, I have always believed every woman who has accused Trump of sexual misconduct.
Then again, there's no doubt that some Trump supporters will not be moved. They will dismiss this as "fake news" or explain it away as an incident that happened before Trump was president. Of course, Trump's cover-up of his affair and attempts to bully and silence Clifford are happening right now — but for some that won't matter. After all, we have seen some Trump supporters angrier with his recent proposed tariffs on metals than with his defense of white supremacists as "fine people" after the Charlottesville white supremacist terror attack.
But this will likely move some to turn against Trump — or at the very least increase the intensity of the opposition to him by those who already were disgusted by the president. That's why Trump's lawyer wanted to silence Clifford. Thankfully, though, Trump's attempt to bully another woman into silence is not happening. And I can't think of a better way to mark International Women's Day than that.
Dean Obeidallah, a former trial lawyer, hosts SiriusXM radio's The Dean Obeidallah show and is a columnist for the Daily Beast and a CNN.com Opinion Contributor.
This is an opinion piece. The views expressed in this article are those of just the author.