Will Congress Give Al Franken The Roy Moore Standard or The Double Standard?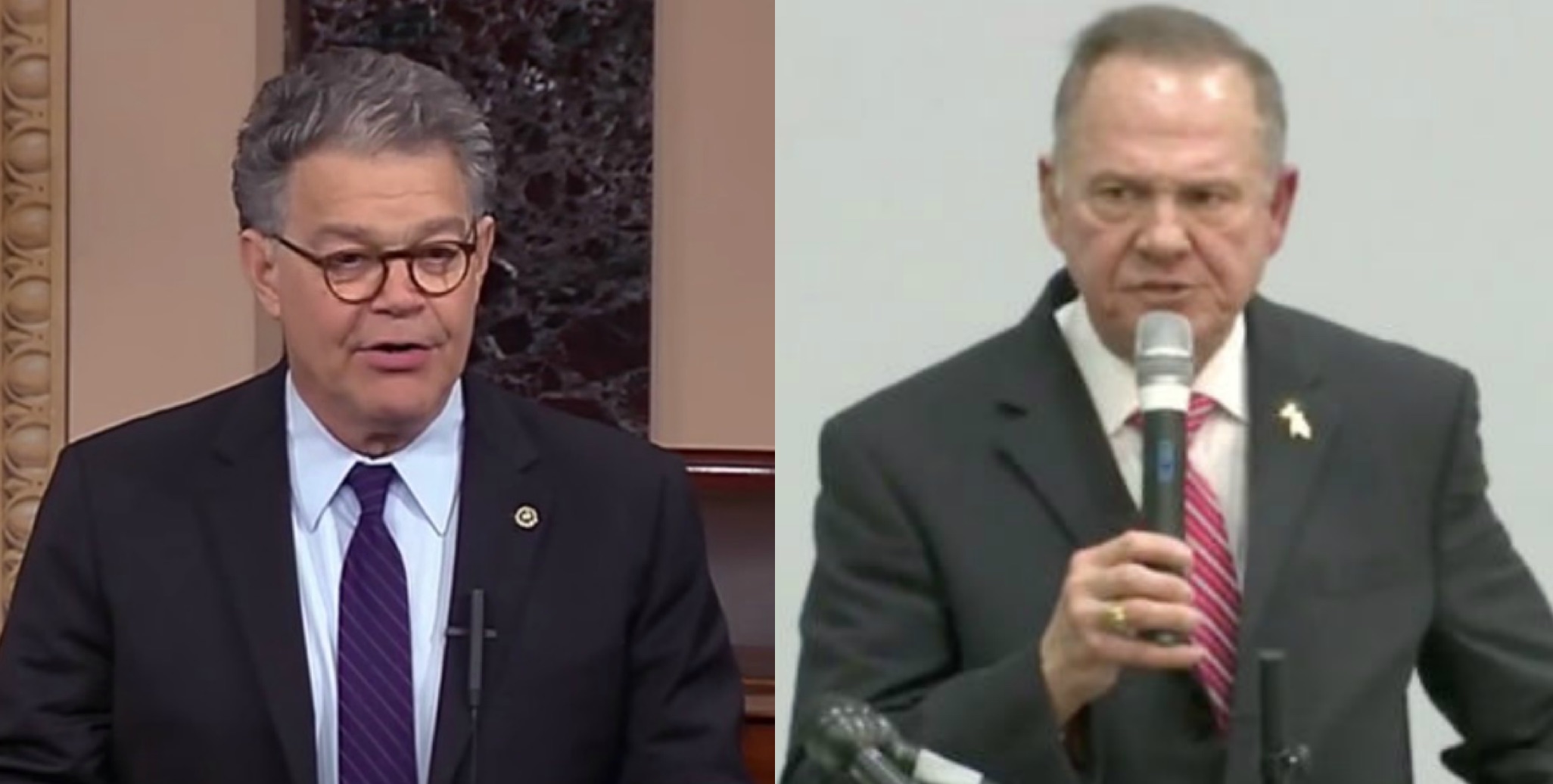 On Thursday morning, Sen. Al Franken (D-MN) was hit with an accusation of sexual misconduct before taking public office.
Los Angeles radio news anchor Leeann Tweeden alleges back in 2006 during a USO trip in the Middle East, he forced an uncomfortable kiss during a rehearsal for a comedy skit he wrote for the both of them and while she was sleeping touched her breasts through her vest for a photo.
The Senator did not recall such a rehearsal but apologized anyway and regretted the inappropriate photo-op.
Just got a response from @alfranken: "I certainly don't remember the rehearsal for the skit in the same way, but I send my sincerest apologies to Leeann. As to the photo, it was clearly intended to be funny but wasn't. I shouldn't have done it."

— Asher Klein (@kleinstar) November 16, 2017
This comes as GOP Alabama Senate candidate Roy Moore has been bombarded with numerous 40-year-old allegations of harassment and child molestation. He has flat-out denied any wrongdoing although he wasn't the most convincing victim of false accusations.
Aside from Moore's staunchest supporters, it's unanimous among both Republicans and Democrats that his accusers are credible and countless Republicans have called on the judge to withdraw from the race. He remains defiant and plans on sticking it out. Even weeks before the Dec. 12 election, the Senate is already having talks of expelling him if he ends up being elected.
Well, shouldn't that conversation be had about Franken as well?
Ever since the Harvey Weinstein scandal broke, the national dialogue has been focused on sexual harassment and assault across all professions and we've seen numerous individuals face the consequences for their actions from Kevin Spacey, Mark Halperin, to Louis C.K. There has even been a "reckoning" of Bill Clinton, with liberals from MSNBC, The New York Times, The Atlantic, and Vox all coming forward condemning the former president, saying he "should have resigned" despite being 20 years too late.
As a society, it appears we're finally accepting that such behavior is unacceptable. So if that's the case, shouldn't we hold Franken accountable?
There are clear differences between Franken and Moore. The Democrat (so far) has been accused of groping by one accuser while the Republican has been accused of assault of minors and harassment by several accusers. That being said, they're both men who abused their power, preyed on vulnerable women, and conducted such behavior before being elected to the Senate. If Congress has been this forceful with their efforts of blocking Moore from stepping into Capitol Hill let alone continue in his race, why shouldn't they be as forceful for Franken who has already been in the Senate for years?
We've seen with the countless alleged sexual predators that have been exposed since Weinstein that once when the first accuser comes out, many will follow. There's a solid chance it could happen to Franken, which begs the question if he is part of the newly-discovered $15 million of taxpayer money that was shelled out by Congress over the years to pay for sexual harassment settlements. All the men implicated in those settlements should be outed and face the consequences.
It is known how Democrats and Republicans in D.C. feel about the Alabama Senate candidate and only time will tell how they will treat the sitting senator. The biggest question for them is whether they'll give Franken the Moore standard or the double standard.
This is an opinion piece. The views expressed in this article are those of just the author.