Liberals Finally Piling on Bill Clinton Over Sexual Assault Allegations Are Anything But Brave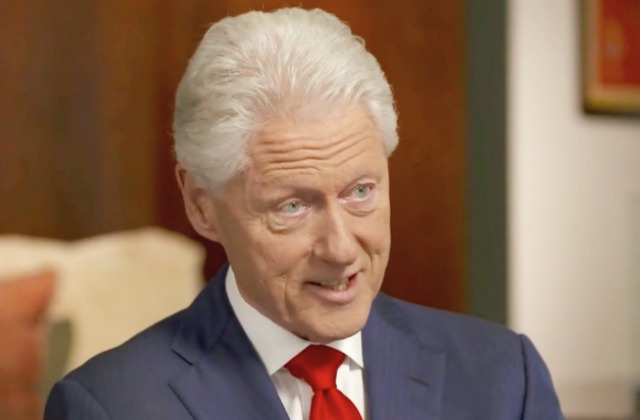 Ever since the Harvey Weinstein scandal broke a month ago, the national dialogue on sexual misconduct has continued and has spread outside of Hollywood. We've seen men outed for their alleged predatory behavior across many industries from media and sports to politics. But we've also seen years-old allegations revisited by Roman Polanski, Woody Allen, Donald Trump, and most notably Bill Clinton.
In the past week since allegations of child molestation were made against GOP Alabama Senate candidate Roy Moore, some on the right (at least before Monday's damning press conference from his latest accuser Beverly Young Nelson) have demanded a reexamination of the accusations made against Clinton with the justification that if we as a society should believe in Moore's alleged victims, we should also believe Clinton's as well. Perhaps some liberals took that to heart as some have recently spoken out against the former president.
MSNBC host Chris Hayes took to Twitter last week to tell his 1.45 million followers that Clinton was "overdue for a real reckoning."
As gross and cynical and hypocrtical as the right's "what about Bill Clinton" stuff is, it's also true that Democrats and the center left are overdue for a real reckoning with the allegations against him.

— Chris Hayes (@chrislhayes) November 10, 2017
He followed up by sharing a Buzzfeed article from 2016 about Juanita Broaddrick, who for years has accused Clinton of rape, and asked if she too is "credible."
Read this account, in light of all we've been hearing and reading this last month, and ask yourself if it's credible. https://t.co/8jymWjFpiF

— Chris Hayes (@chrislhayes) November 10, 2017
On Monday, Caitlin Flanagan of The Atlantic also called for a "reckoning," writing that the feminists who defended Clinton back in the '90s "were on the wrong side of history." She even called out Gloria Steinem for "slut-shaming," "victim-blaming," and "age-blaming" in an op-ed she wrote in defense of the president.
And then on Tuesday, Michelle Goldberg of The New York Times came out and declared that she "believes" in Juanita Broaddrick, which honestly spends more time rehashing the tactics of Republicans' smear campaign against the Clintons and the skepticism of his other victims like Kathleen Willey and Paula Jones instead a full-throated condemnation of the alleged predator.
While it's a good thing that those on the left are acknowledging what Sean Hannity has reminded his audience for years, this "coming out party" is a bit disingenuous.
We are almost ten months into the Trump presidency and despite major victories in last week's elections, Democrats are still struggling to find leadership. So far, no one has been able to fill the giant shoes Barack Obama left behind, who at the time represented the future of the Democratic Party, but as of late, it's becoming clear that the Clintons do not represent the future. If anything, they're relics of the past. Just look at Donna Brazile's incredible front-stabbing of Hillary Clinton, Debbie Wasserman Schultz, and even Obama with the release of her new book. She read the tea leaves as a prominent Democrat that the failed presidential candidate is more toxic to her party than she is helpful. So she decided to put the first nail in the Clintons' shared coffin.
Let's rewind to the final stretch of the 2016 election after the Access Hollywood tape was leaked to the press. Trump's campaign was in crisis mode and out of desperation, they dragged Bill Clinton's history of allegations into the conversation as a way to deflect from his own allegations that had surfaced. Hillary Clinton said during her campaign that sexual assault victims "have the right to be believed," yet you didn't really hear liberals at the time asking her if women like Broaddrick, Willey, and Jones should be believed. They simply followed the former First Lady's lead when she dismissed them as a "bimbo eruption." And their silence was deafening.
The left is finally speaking out on Bill Clinton's transgressions because they know they won't face any consequences if they do. There's no risk at all! Hillary Clinton lost the election and she virtually has no more influence. Why else do you think donations to the Clinton Foundation have dried up? The Clintons were once deemed untouchable as part of the political elite, but their stars have faded and their power has drained. It's now a "safe space" for anyone to blast the Clintons and banish them into history. It doesn't take courage to kick people when they're already down. So liberals who think they're brave for criticizing them now are anything but brave.
This is an opinion piece. The views expressed in this article are those of just the author.