Anthony Bourdain Dishes on His Dinner with POTUS: He's Great With Chopsticks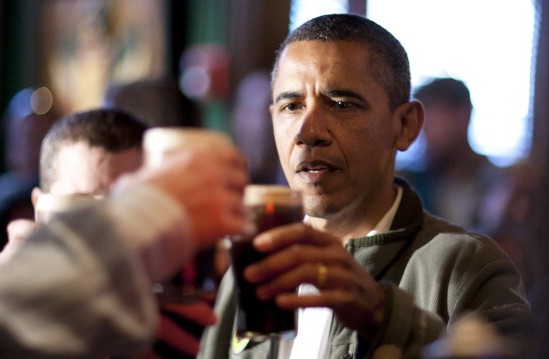 By now you've already heard that President Barack Obama and Anthony Bourdain had dinner together this week in Vietnam. They went to Bún chả Hương Liên, a restaurant in Hanoi named for a traditional Vietnamese dish consisting of grilled pork in broth or sauce with rice noodles and herbs. Of course, they washed it down with beers. The president will appear on an episode of Anthony Bourdain: Parts Unknown which is set to air in September.
Now, Bourdain is dishing on the dinner on the Li.st app. Here's what he had to say in his list called "Six True Things About Dinner with Obama."
The President is very comfortable with chopsticks. He handled the sticky, hard to separate noodles that accompany the pork and the broth components of Bun Cha skillfully. He even went in for seconds."

The President is an Asiaphile. He spoke wistfully of his time in Indonesia and his memories of the smells and flavors of street food there.

He clearly enjoyed sitting on a low plastic stool eating bun Cha . It felt to me like his night off. Even with Secret Service lurking nearby

The reaction among regular people in Hanoi to the fact that the US President chose to eat Bun Cha was beyond all imagining. The effect was unbelievable.People were actually crying the next day, describing to me their shock and their pride, the reactions of their neighbors, to this completely unexpected choice of meal—and the venue.

He was among the very few guests on my show who ever asked the camera crew if they got to eat too.And he made a point of taking a picture with all of them when we were done.

I believe he enjoyed that beer.
It's also worth noting that though the Secret Service might have been annoyed by the whole thing, they didn't show it. According to Bourdain, they were "very cool about it."
Say what you want about his politics, the guy is cool. We'll miss having a president who does things like this. It's safe to say that Donald Trump wouldn't appear on Bourdain's show anytime soon.
–
Have a tip we should know? tips@mediaite.com