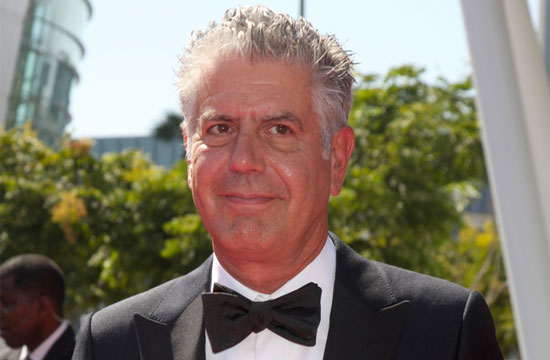 Lots of celebrities (and normals, too) are using B.J. Novak's li.st app to make lists about everything. Anthony Bourdain is an early adopter, and he's used it to come up with everything from his thoughts on what he might name his band if he had one to the foods he wants to put into his upcoming market.  This week, he's sharing his biggest fears:
Clowns: "I'm sure I'm not alone here. Were clowns ever funny? No. Of course not."

Mimes: "Their purposes are always to embarrass, to draw attention to the shy, the troubled, the hungover. Pure evil."

Switzerland: "I live with a persistent dread of alpine vistas, chalet architecture, Tyrolean hats, even cheese with holes in it. You will notice I have never been there."

Karaoke: "Like anything shameful, I prefer to do it in private. And after enough soju, anything is possible. Karaoke should only be performed with people who have already seen your genitals."
Rats: "A poisoned rat once crawled out of a wall and flopped limply onto my foot to die. They had to scrape me off the ceiling."
"Also: Polka music, ukeleles, neckbeards with banjos, golf clothes—in fact golfers in general, The Real Housewives of Anywhere ( their glassy gazes, surgical addictions and single minded hunger for attention are a clear and present danger to anyone in their trajectories), pressure cookers, and Nashville Hot Chicken ( the extra hot version)."
Can't disagree with any of it, especially the rats. Click here for the entire list.
Related:
Anthony Bourdain's Favorite NYC Restaurants
Anthony Bourdain Says Airplane Food and Room Service Are Travel Don'ts
–
Have a tip we should know? [email protected]