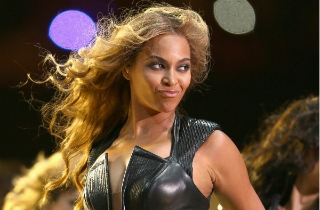 Our Queen Bey is encroaching on her bestie Gwyneth Paltrow's GOOP territory. You wanna eat like Gwyneth Paltrow or QUEEN BEY? Is that even a question?!
You won't often see Beyonce's name for endorsements (oh wait, except for her Pepsi advertisements, JK), but there's our Queen shilling for a vegan food delivery service with her trainer, Marco Borges. Like everything else that the Queen Bey does, the delivery service makes something very challenging look extremely easy — cut out fat, sugar, salt, and animal parts while getting food delivered to your door? Queen Bey does it!
Well, OK, Queen Bey did it once. From the press release for the company, called 22 Days:
Beyonce, who trains with Borges, took the 22 Days Nutrition challenge in the winter of 2013 with her husband, JAY Z, and has since made an effort to include more plant-based foods in her everyday diet. …

"I am so grateful that I took the challenge and credit Marco with leading by example," says Beyonce. "He is the most energetic person I know and it's all because of his decision to live a healthy lifestyle. He came up with a great program to get people motivated to make better nutritional choices. All you have to do is try. If I can do it, anyone can. I am excited to partner with him."
Well, we know if that Beyonce can do it, chances are we probably cannot do it ourselves. And sure, the dishes do range from $9.76 to $16.50 per meal, but once you start adding up how many meals you want in 5 days, 15 days, 22 days … you will be paying GOOP-level prices.
A SMALL SACRIFICE TO PAY FOR EATING AND BEING LIKE BEYONCE, says the very irrational and hangry part of our brain.
[PR Newswire h/t Eater]
Have a tip we should know? tips@mediaite.com