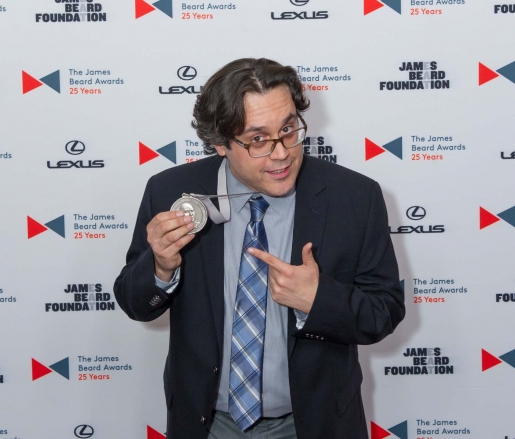 As any food writer who's ever chased a bad job interview with a bottle of Johnnie Walker then woken up in a shady Williamsburg hotel two days later gainfully employed by an entirely different food publication can tell you, 1.) alcohol abuse in food media is real, and 2.) you can be one of the best food writers around while totally sober, as John DeVore demonstrates. DeVore took home two James Beard awards this year for a personal essay about Taco Bell (that's not really about Taco Bell,) and in his latest essay on Medium. DeVore humorously reflects on his five years of sobriety. Highlights below.
The good:
The new hero only drinks diet ginger ale, and he deals with anxiety attacks the way Beowulf or Perseus might have, with the help of a licensed therapist. The old hero may have gotten laid off from his job as an associate editor at a lifestyle magazine and then spent the next three months getting drunk and crying in strip clubs. But the new hero, when confronted with crisis, does not drink. Instead, he meditates, and eats burritos.
The bad:
That angel's name was Officer Something-something and he said "You can't sleep on the subway train."

Then, later that week, after one two many Chablis, my girlfriend suggested I quit drinking, and then, stop talking to her. One night I decided to fight a wall and no one wins that fight. She really showed me that drinking lots of alcohol is no substitute for having a personality.
And the gill-y:
When you water board your emotions with booze, they don't gasp, they guzzle. Glug, glug, glug. Then they grow vodka gills. My life was the autobiography of a pickle.
Have a tip we should know? tips@mediaite.com