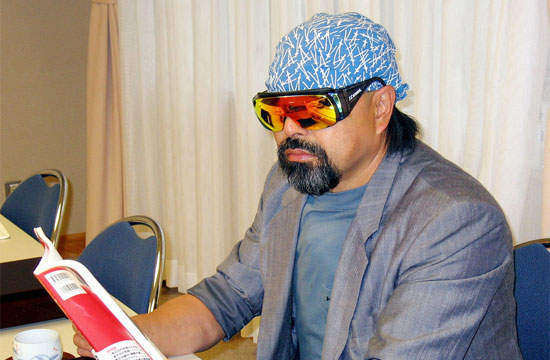 So you've worked as a sushi chef for one of the world's most deranged dictators, you fled the country fearing for your life, and you've reached a certain level of notoriety because of your inside accounts of his family's life. What's the most obvious thing to do, celebrity chef who is a declared enemy of a state that possesses nuclear technology?
You go back! Duh.
We have no idea exactly why "Kenji Fujimoto," the former sushi chef of North Korean dictator Kim Jong Il, would willingly take up the invitation of his son Kim Jong-Un, to return to the Hermit State, particularly since he'd not only defected back to his home country of Japan, but also wrote multiple books revealing the debauched craziness that is the North Korean ruling family. And that's why that part about being declared an enemy of the state is completely true. Consequently, he goes under a pseudonym and disguises himself with a bandana and aviators whenever he's in public.
(True story: he convinced Kimg Jong Il to let him go to Japan to source quality uni, and then defected once there.)
But now that he's back from his two-week trip to North Korea, Fujimoto can't help but gush about how totally awesome North Korea has become under the rule of Kim Jong-Un:
Kim, he said, had "grown tremendously as a person", and told Fujimoto he was "always welcome whenever I visited North Korea", according to a report in South Korea's Hankyoreh newspaper.

Fujimoto claimed that Kim and his wife, Ri Sol-ju – who he described as "pretty and charming" – had organised a reception for him, but added that they had not discussed politics.

…Far from being declared an enemy of the North Korean state for his loquaciousness, Fujimoto at times sounded like a spokesman for the regime. "Stores in Pyongyang were brimming with products and people in the streets looked cheerful," he said.
The Guardian suspects that Fujimoto's motivated by a few things: first, that he hasn't seen his wife and children for a decade. Second, the new regime may want to send a message to the rest of the world that the notoriously secretive country is opening up. And finally, it might be a "gentle" hint to Fujimoto that he should stop telling the world about North Korean secrets.
There is probably an official explanation, but we won't know it until the documentary of the trip produced by Japanese news outlet TBS is released.
Have a tip we should know? tips@mediaite.com