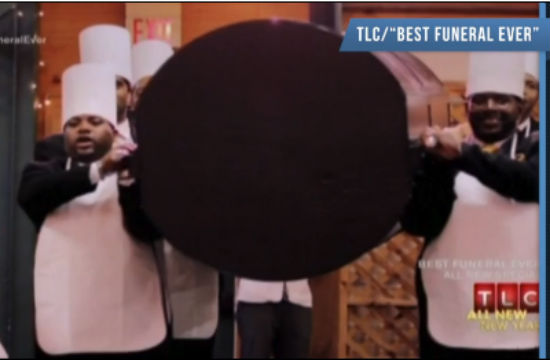 Huffington Post: Want to make sure you get into Hog Heaven when you die? Have a BBQ-themed funeral! No idea where to start? Look to TLC's Best Funerals Ever (a real show), and their coverage of the guy who sang the Chili's baby back ribs jingle. He was buried in a smoker-shaped casket (morbid!), his pastor wore a toque, and there were live piggies in attendance to send him off. Or don't do any of that because it's super messed up.
New Yorker: Top Chef alum Leah Cohen is maintaining a steady stream of crappy reviews for her hit-or-miss Lower East Side spot Pig & Khao. This one from The New Yorker points out all the reasons it should be as good as Momofuku, but isn't. So that's promising.
YouTube: Vice posted a trailer for Eddie Huang's next round of Fresh Off the Boat episodes, in which he goes back to Taiwan, which is just fine with us. One-third of this trailer is dedicated to the same shot of a fluffy white kitty. We hope that kitty doesn't go the way of these fluffy rabbits.
Find Eat Drink: The FED 50 for 2013 has been released, tapping chefs for the 50 North American restaurants they "think are worth going out of your way to dine at in 2013." Christina Tosi hollers at her boy Danny Bowien for his white wine spritzers.
Bon Appetit: Adam Rapoport benevolently published his 7 time-tested cooking tips from the multitudes of prestigious chefs he's had the honor of hobnobbing with. Our personal favorite? Rick Bayless: "De-flame your onions." Sorry, Rick. Our onions were born this way.
New York Magazine: From the woman who brought you Liz Taylor's revolting sour-cream-and-cottage-cheese diet, comes an attempt at The Jackie Kennedy Diet. Conclusions: we can't believe women survived the '60s, eating what they ate and smoking two packs a day.
Have a tip we should know? tips@mediaite.com