Padma Lakshmi Gets Wooed With Foie Gras, Thinks Wine Spritzers Are A 'P**sy Drink'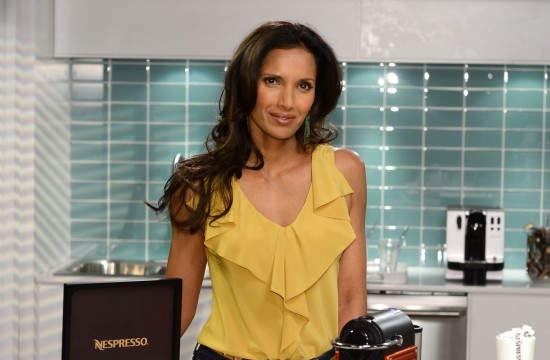 Padma Lakshmi has some very strong opinions about wine: how to drink it, whom to drink it with, and what constitutes real wine for real people. In an interview with manly men's magazine Esquire, she not only showcases an impressive knowledge about wine (she is promoting Sterling Vineyards wine, after all), she wants to encourage men to drink and learn more about wine.
But not white wine spritzers. "That's a real pussy drink. And I don't mean that in a good way," she added, and men everywhere rushed to destroy their Bartles and Jaymes collections. "A lot of times, when you're going out to a bar, maybe the wine selection isn't that great, so it's a way to camouflage. But I would never do that with one of the Sterling wines. I don't think it's necessary."
You know what else isn't necessary for Padma Lakshmi? Dudes who give her food on the first date. Though she strongly advocates for a bottle of wine as a first-date gift ("It can speed up the process. I don't think just any bottle of wine. But it helps. It's not a miracle-worker."), she recounted a time when a man gave her a lobe of foie gras. Of all the random food things one could give to Padma Lakshmi!
"Are you trying to fatten me up? " she rhetorically asked. "I don't really cook foie gras at home. I don't know many people who do. It's still sitting in my freezer…Somebody must have given it to them, and they didn't know what to do with it."
Here is a new Wise Person Saying for your day: In wine, truth; in foie gras, forever alone-ness.
[Esquire h/t The Daily Meal]
Have a tip we should know? tips@mediaite.com