Poll Finds Rachael Ray More Trustworthy Than Michael Pollan, Here's What He's Missing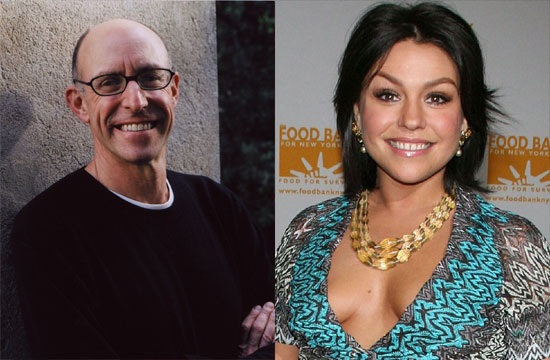 Reader's Digest polled 1000 of its readers, asking the question: who did they, the everyday consumers of media, find the most trustworthy? The magazine compiled a list of the top 100 to publish, in which we noticed that huggable television cuteface Rachael Ray (#31) was found way more trustworthy than food advocate and Smart Person, journalist Michael Pollan (#83).
According to real scientific methodology, Ray commands more trustworthiness than Christiane Amanpour (#56), Warren Buffet (#71), and George Lucas (#42), while Pollan is less trustworthy than Steve Harvey (#72), Dwayne "The Rock" Johnson (#54), and Tim Tebow (#40).
While both food personalities share the same goal — to teach America how to eat better — and while we applaud Rachael Ray's highly visible efforts in that regard, clearly, Michael Pollan is doing something wrong if he's less trustworthy than Steve freaking Harvey. And since he's at the forefront of the Healthy Eating Movement, he's got to step up his game if he's going to help solve the obesity crisis. After much thought and analysis, we've come to the following conclusions on how Michael Pollan needs to do better:
No One Really Cares About Your Professional Career: In the course of his 25-year career, Michael Pollan has written five books, four of them New York Times bestsellers, contributed and edited thousands of articles, was once on the TIME 100 list, and currently works at the director of the Knight Program in Science and Environmental Journalism at UC Berkeley.
Rachael Ray created the garbage bowl.
Michael Pollan Could Really Be A Bit Cuter: Look at these photos. Who would you trust more? Seriously, Michael, you sadly lack a certain wholesome, girl-next-door sex appeal. You need a bit more television pizazz. And some more hair. And maybe a well-fitted push-up bra.
Everyone Is More Trustworthy With A Dog: Michael Pollan needs to take a puppy with him wherever he goes.  It worked with Rachael (have Bo Obama, will advocate for antiobesity measures), and it worked for Richard Nixon. Those guys never let us down.
He Needs More Abreevs: Though Ray caught flak for phrases like "EVOO", one cannot deny that they're sticky enough to keep her in the public eye. Pollan's catchphrases are good, but by shortening his philosophies into a simple abbreviation, he'll gain way more traction: "Eat food, not too much, mostly plants" could become "EFNTMMP." Or, even better, "YOLO."
Boobs.
Pollan needs more of them. And also more suggestive chocolate spoon-licking.
[Reader's Digest via Eater]
Have a tip we should know? tips@mediaite.com