Shocking News: Following Cooking Shows' Recipes Will Make You Fat, Says Study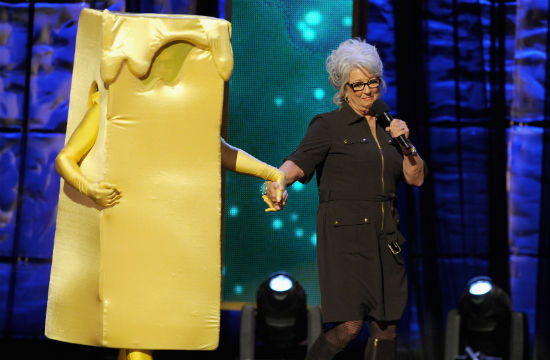 Well, what did you really expect?
If you happen to love your Paula Deen, Giada de Laurentiis, Bobby Flay and their cooking shows, you may be sh*t out of luck. Home cooks who closely follow — and make — the recipes from their favorite cooking TV shows may be more prone to gain weight, according to a new study published in the journal Appetite. (Perhaps this is why de Laurentiis is grilled so often on her weight and whether or not she eats on the set of her show?) The researchers from Cornell University surveyed about 500 women in their 30s and their cooking TV show habits (namely whether they watched and made the recipes after, or just watched). What the researchers found, via NPR's The Salt:
"In terms of weight, those who watched cooking shows and cooked frequently from scratch had a mean weight of 164 lbs," according to the paper. By comparison, women who watched the shows but didn't cook much from scratch weighed, on average, about 153 pounds.

One reason cooking at home might be linked to poor health? Researchers say it could be because there are too many unhealthful baked goods coming out of the oven.

That's an 11-pound difference between the "doers" (the women watching and cooking) compared with the "viewers" (the women who watched but didn't cook).

"Being a doer," Pope says, "may put you at risk for packing on extra pounds."
Put. Down. The. Butter.
It is interesting to note that the researchers aren't putting the sole blame on what's being shown on TV, but also cooking at home — a theoretical vision, The Salt notes, pushed out by the likes of Michael Pollan as being the healthier option. As First We Feast says, "homecooking is only as beneficial as you make it." Granted, it's not like shows like Guy Fieri's Diners, Drive-Ins, and Dives is shying away from gluttony. But at least it's harder to binge on those fatty foods from the comfort of your own home.
Research is still pending as to whether eating chocolate and "night cheese" in bed while watching reruns of Friends and 30 Rock is bad for you, too.*
*OK, we know that it's bad for us. Leave us alone already.
Have a tip we should know? tips@mediaite.com