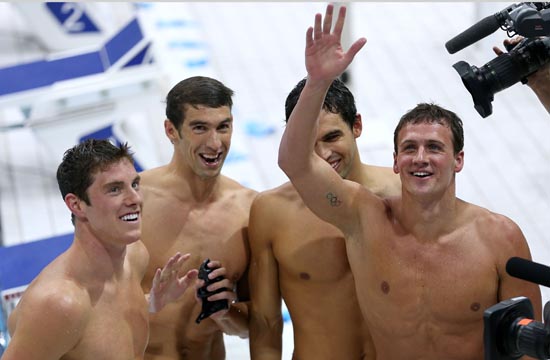 Jamie Oliver, with his fancy campaign to get athletes to stop endorsing junk foods, can put this one in his pipe and smoke it: A Wall Street Journal profile of the glorious, musclebound, goofy swimmers of Team USA reveal that they not only eat plenty of junk food, they rely on it to meet absurd nutrition requirements for their training.
How absurd? Think nearly 9,000 calories a day.
Ryan Lochte, for instance, ate nothing but McDonald's in the days leading up to the 2008 Olympics. The results: four medals, one of them a gold medal for the 200-meter backstroke.
The "ripped, 6-foot-6, 220-pound" Nathan Adrian will scarf down an entire Funfetti cake — the cake of choice for twentysomething-year-old women who laugh with their mouths open — with a warm glass of milk. ""I live with two girls, my housemates, and for the longest time I was like, 'Dude, I'm training for the Olympics and the Olympic trials. You can't make me these stupid Funfetti cakes,' " he said. "But if they're just sitting there, I can't not eat them."
And Michael Phelps, the gold standard for any Olympic swimmer out there, famously ate 12,000 calories per day in his training before the 2008 Olympics.
Sadly, before anyone starts trying to follow the Michael Phelps Diet, some killjoy dietitians warn that only elite athletes doing months of endless physical training could possibly attempt to cram that many calories into their diet. "[For] athletes, that's about the only way they can get the stuff in," says physiologist Joel Stager, the director of the Counsilman Center for the Science of Swimming at Indiana University. "You certainly wouldn't recommend that to the general population, but when you're training five, 5½ hours a day in the water, it's tough to make that up with bagels and cornflakes."
Hear that, Jamie? They need those calories! It's the only way they can achieve all those medals! Amurrica.
[WSJ]
Have a tip we should know? tips@mediaite.com