60 Minutes Reporter Lambasts Critics of NSA Piece: They Want 'Televised Drama,' Not Journalism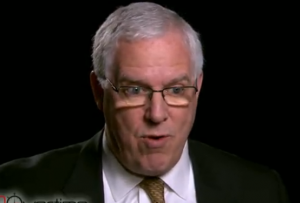 Between a botched report on Benghazi and giving a mostly uncritical platform for NSA officials to respond to critics of the agency, 2013 has not been a very good year for 60 Minutes. New York Times reporter David Carr decided to tackle, head-on, the exact problem with the NSA report, and managed to speak to the reporter behind it, John Miller, who had some tough words for critics of his piece.
Carr's main point of contention with Miller's report is that normally, journalists are supposed to approach these stories with a healthy dose of skepticism, but that skepticism was nowhere to be found when Miller, who previously served in the Office of the Director of National Intelligence, walked through the doors of the NSA building in Fort Meade.
In talking to Miller, Carr describes him as dismissing critics "as ankle-biting, agenda-ridden bloggers who could not be compelled to get out of their pajamas and do actual reporting." And the hits just kept on coming.
"I fully reject the criticism from you and others," he told me. "The N.S.A. story has been a fairly one-way dialogue. There has been no conversation and when you do hear from the N.S.A., it is in a terse, highly vetted statement."

"We went there, we asked every question we wanted to, listened to the answers, followed up as we wished, and our audience can decide what and who they believe. As we constructed it, the N.S.A. was a story about a debate, not a villain, and we added to that debate with important information. I fail to understand how a shrill argument for the sake of creating televised drama would have accomplished anything."
Of course, Miller's argument that the NSA hasn't been able to out its side of the story inspired some brand-new criticism on Twitter.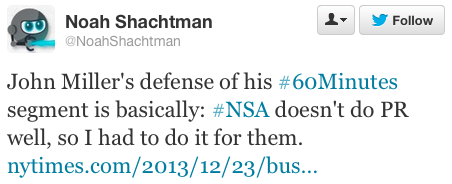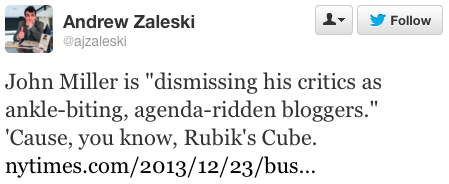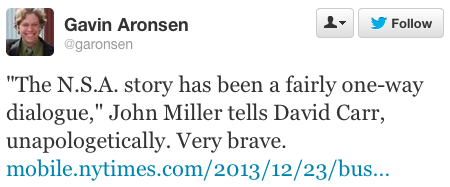 You can read Carr's full column here.
[photo via screengrab]
— —
Follow Josh Feldman on Twitter: @feldmaniac
Have a tip we should know? tips@mediaite.com
Josh Feldman - Senior Editor