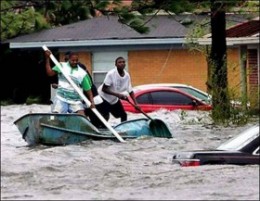 Amidst this weekend's wall-to-wall Ted Kennedy coverage, and the growing Sarah Palin anniversary retrospectives (hard to believe it's only been twelve months!) it was sometimes difficult to recall that Saturday marked the fourth anniversary of Hurricane Katrina hitting New Orleans. It's not that the media hadn't gone to some advanced lengths to cover the anniversary — CNN's American Morning featured a week long series, and this weekend's Times magazine had a number of articles including the cover story; Michael Lewis' piece recounting his arrival in his hometown shortly after Katrina landed is a must-read. So it's not so much that the story was ignored but that the anniversary, which normally is an end of August media focal point, failed to permeate the larger conversation in the wake of more immediate events.
With most of the country's attention focused on his Kennedy eulogy, the President's radio address, with his assertion that he would visit NOLA this year, barely caused a blip. Even Twitter seemed relatively quiet on the subject. Speaking of Twitter, it's hard not to wonder how differently the aftermath of Katrina might have played out had Twitter been around just four years ago.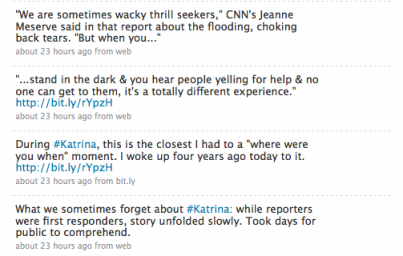 The Times' Brian Stelter, who wrote the TVNewser blog at the time, noted on Twitter (above) that: "What we sometimes forget about #Katrina: while reporters were first responders, story unfolded slowly. Took days for public to comprehend." What a difference four years and the Internet makes: imagine the level of accountability the President would have had to face had all those people trapped on roofs, and in the Superdome had direct access to the social web. One thing's for certain, we would not have had to wait for the outrage of anchors and images to kick the country into action — more than likely it would have been the other way around, and as a result it would have been a different event entirely. As we saw in June during the #iranelection, the immediacy and transparency of Twitter has a way of rallying the masses. Also, #heckofajobBrownie would have made for a heck of a hashtag.
Have a tip we should know? tips@mediaite.com