A Very Special Up With Chris Hayes: Bravely Tackling Israel And Mideast Peace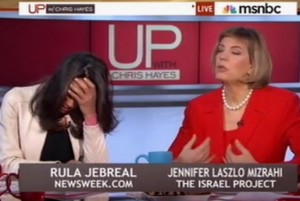 On MSNBC's Up With Chris Hayes Sunday morning, the show took its long-form approach to a whole new level, devoting the entire program to an examination of the relationships between the United States, Israel, Iran, and the Palestinians. Host Chris Hayes was joined by panelists Rula Jebreal of Newsweek, The Israel Project's Jennifer Laszlo Mizrahi, J Street founder Jeremy Ben-Ami, and New America Foundation's Leila Hilal for a discussion that managed to remain civil, and while it barely managed to scratch the surface (even at two hours), it was an admirably thorough entree to this complicated topic.
One of the things that sets Up apart from other political talk shows is that its 2-hour length and panel-only format allows the show to take a deeper look into most topics, typically spending several segments on each. The downside to that is that, despite the fact that I probably spend about 3 hours a week watching the show, its format and content defy the kind of quick summarization and quote-pulling that make for a good Mediaite post.
With regard to the Israel special, that effect is multiplied, but the effort definitely deserves recognition. Although there's no way to fairly represent the entire two hours, there are a couple of quick clips that I think illustrate the difficulty of these discussions, the kinds of things that can derail and sidetrack them, and the fact that these are about as heated as the show got also shows that it is possible to have tough conversations without devolving into verbal fisticuffs. Check them out, and when it's available, I recommend you take the time to watch the entire episode at the show's website.
In the first clip, Rula Jebreal responds to earlier comments by Jennifer Laszlo Mizrahi contrasting the Egyptians and the Jordanians, whom she described as rational actors, with the Iranians. "The Iranians are different," she said, prior to the commercial break. After the break, Jebreal took exception with a comparison that was somewhat rankling, you will see.
In the second clip, it is Laszlo Mizrahi's turn to rankle, when, as she describes "the majority of Palestinians'" desire for peace "only as an interim step to destroying Israel," Jebreal does a near-literal head-desk. Anyone who has ever participated in a discussion like this will have to smile at the familiarity of these patterns, but to the panel's credit, they never escalated beyond that point, as these conversations often do. That's also another hallmark of Hayes' hosting style, that when things get heated, he doesn't fan the flames, which makes for more productive, thoughtful conversations, but not so much Mediaite catnip.
Here's the clip, from MSNBC's Up With Chris Hayes:(watch the whole thing later at the Up website)
Have a tip we should know? [email protected]