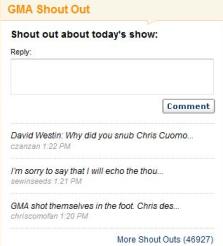 So did you watch George Stephanopoulos' debut this morning on Good Morning America?
Millions of people did – and ABCNews.com is letting them sound off in a "shout out" section on GMA's site. Judging from the comments, the fans are not pleased.
There are more than 46,000 comments in the thread, and we have to give the web administrators credit over at ABCNews.com, because they don't appear to be moderated at all. That said, the majority of the comments appear to be fairly critical, for one reason or another. Here are a couple examples (sic'ed):
I HATE, HATE, HATE the new format. The first 15 minutes of today's show was all George S. You might was well call it "ABC News This Morning with George Stephanopoulos". Please bring Chris Cuomo back–and keep the old format!!! I wish Diane had not left, and Robin is the only reason I am still watching. If every day is like today, it won't be for long…..
David Westin: Why did you snub Chris Cuomo on Fridayy and all of the team? I am upset you did not give mention to Chris and pretty much ignored his roll in GMA. Very angry over this and wonder were you snoozing on your Job! What will you do now. I did not watch GMA today nor will I. On to CNN! Bring back our Chris and I will tune in and so will an unbelievable amount of fans.It is in your ball park so have the smarts to say we were wrong and bring Chris back -George can stay but bring our Chris back NOW!
They aren't all negative – here's a positive one:
I just want to comment for those who were so concerned about George's performance as Diane's replacement (and decided not to watch ever again!) – you had absolutely nothing to worry about! I thought he and Juju did an excellent job this morning! I know Chris will also do a great job on 20/20 whenever he makes his first appearance there – I have no worries! Great job ABC! I hope all of you who jumped ship come back to GMA!
Change can be tough for dedicated fans of any program – imagine if The Office suddenly replaced 50% of the stars of the show with new people. And morning show audiences can feel an even more close connection. Of course, if some people go elsewhere as a response to the new team, there could be a whole new group of Stephanopoulos fans that get added. We'll see the first week of ratings next Tuesday.
Here's a look at two of Stephanopoulos' segments this morning – one hard news and one decidedly not:


—–
» Follow Steve Krakauer on Twitter
Have a tip we should know? [email protected]