After Months of Silence, Tantaros Claims Fox News Is a 'Sex-Fueled, Playboy Mansion-Like Cult'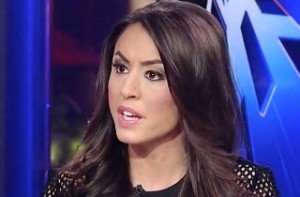 The last time that Andrea Tantaros appeared on Fox News was Monday, April 25. The former cohost of The Five turned Outnumbered staple was the source of conversation from time to time in the Mediaite offices, especially as attention turned to her new book, Tied Up in Knots. The book was frequently discussed on Outnumbered, and when it was released, others on the network briefly promoted Tantaros' text as well.
And then, Tantaros was off-air, suddenly, and without warning. One day led to another, and given the dynamic of the bloviated outrage that would, from time to time, emerge from her end of the Outnumbered couch, it became immediately clear that something — but what? — was up. Weeks went by without any reference to Tantaros. Outnumbered powered on, emphasizing the talent of people like Harris Faulker and Julie Roginsky. The network eventually released the following statement to AdWeek regarding Tantaros' sudden departure:
"Issues have arisen regarding Andrea's contract, and Fox News Channel has determined it best that she take some time off. She is still under contract with the network."
It seemed bizarre given the timing of the Tied Up in Knots release for such a strong and prominent voice to go missing. He comrades never uttered her name, we carefully noted; her social media would occasionally sputter out the newest post about her book. All the while, her bio on her Twitter account read — as it still does today — "Co-host of Outnumbered at noon ET on @foxnews, FNC political analyst, terrorist recruitment tool."
Then, weeks after Gretchen Carlson filed her sexual harassment lawsuit against Chariman and CEO Roger Ailes, Tantaros emerged with allegations of her own:
According to Tantaros's account, Ailes began harassing her on August 12, 2014. During a meeting in Ailes's office, Ailes allegedly asked Tantaros to do "the twirl" so he could see her figure. She refused. Then, in mid-December of that year, Ailes made another advance, Burstein says. "Ailes asked her to turn around, and then he said, 'Come over here so I can give you a hug.'" Tantaros rebuffed the advance, Burstein says.

In February 2015, Tantaros was pulled off the 5 p.m. program The Five and demoted to working full-time on the midday show Outnumbered. In February 2015, according to Burstein, Ailes allegedly harassed Tantaros again in his office, asking about her workout routine because her body "looked good" and mentioning that she must "really look good in a bikini."
And yesterday, a formal lawsuit was officially filed alleging that top executives (including Bill Shine, who essentially replaced Ailes with his recent ouster) punished her for voicing concerns over Ailes' behavior. Although the network claimed that Tied Up In Knots was written without their vetting, Tantaros alleges in the lawsuit:
Fox News masquerades as a defender of traditional family values, but behind the scenes, it operates like a sex-fueled, Playboy Mansion-like cult, steeped in intimidation, indecency and misogyny.
Tantaros' lawyer, Judd Bernstein, claims that the network offered to pay her "in the seven figures" in exchange for her to withdraw her claims against Ailes and others. For example, as Jim Dwyer wrote in The New York Times last night, "According to the lawsuit, Ms. Tantaros said she had been subjected to unwelcome advances from Mr. O'Reilly, whom she had regarded as a friend and adviser."
The lawsuit continues, "Ailes did not act alone. He may have been the primary culprit, but his actions were condoned by his most senior lieutenants, who engaged in a concerted effort to silence Tantaros by threats, humiliation and retaliation."
After months of inextricable silence with no evidence of her whereabouts, it would appear as if Tantaros is back quite literally with a vengeance, making claims about the network that may seem stunning to many. For instance, she alleges that Fox News would be involved with "sock puppets," or fake Twitter accounts with the intent of criticizing her. We may never know the full extent of what happened to cause her immediate departure in late April, but the revelations Monday night help shine a light on what was a mystery of sorts in the world of cable for months: how a popular network talent could disappear without a trace.
UPDATE – 08/23/16 @ 11:11 p.m.: Through a Fox News spokesperson:
Irena Briganti denies all use of "sock puppet" social media accounts.
—
J.D. Durkin (@jiveDurkey) is an editorial producer and columnist at Mediaite.
[image via screengrab]
This is an opinion piece. The views expressed in this article are those of just the author.