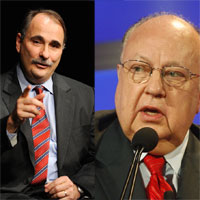 Looks like the Obama administration is serious about dealing with Fox News. Politico reported yesterday that during President Obama's visit to the UN two weeks ago senior adviser David Axelrod met privately with Fox News head Roger Ailes…for coffee, according to Michael Scherer at Swampland.
"I've known Roger for a long time," Axelrod told Time in an email on Monday. "We chatted from time to time during the campaign. I was going to be in NY, so we got together for a cup of coffee."
The details of the conversation that accompanied that cup of coffee, and who instigated it, are sketchy. But the timing is certainly notable. Obama's trip to the UN on Wednesday Sept. 23 followed his Sunday morning talk show blitz where the only network he didn't stop by at was Fox, begging the question: was this meeting the first step in negotiating a detente of sorts after a summer during which Obama's health care plan was practically derailed by mainly Fox coverage of the town halls? Or perhaps an attempt to make nice in the aftermath of Van Jones' resignation at the hands of Glenn Beck? Or was Fox attempting to mend fences in the hopes of not being skipped over during the next Obama blitz?
Be it any or all, you'd never know it by watching Fox! Glenn Beck in particular has only ramped up his criticism of all things Obama, so much so the White House took the unusual step of responding on its blog the other week. Per Swampland: "[Fox's senior vice president for news] "Michael Clemente said that White House aides, in their increasingly vocal criticism, were failing to distinguish between Fox News's journalism, and its pundits and opinion voices, like Beck, who he likened to the op-ed page of the New York Times." (White House aides and a lot of American viewers one might argue!) Meanwhile a White House official tells Scherer: "[Fox] are the paid political programming for a party, and occasionally a couple of news stories break out in the midst of 23 hours and 45 minutes of political rantings and opinion."
Snap. Doesn't sound like either side is willing to make nice any time soon! Perhaps Ailes and Axelrod would have managed better if that cup of coffee had been, say, a double whiskey.
For more on the burgeoning relationship between the Obama Administration and Fox News, please see: Roger Ailes Is The Most Powerful Political Figure In America, or Why the Smartest Thing President Obama Can Do is Go on "The Factor".
Have a tip we should know? tips@mediaite.com