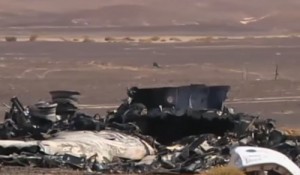 An official with Metrojet, whose Russian passenger plane crashed in Egypt on Saturday, has claimed that the Airbus carrying 217 passengers and 7 crew members came down because of an "external impact."
According to the Associated Press, Metrojet deputy general director Alexander Smirnov said a Monday press conference that since investigators could "rule out a technical fault of the plane or a pilot error," some kind of "external impact on the airplane" was "the only possible explanation" for the crash. To back up the claim, Smirnov cited evidence that the plane's speed dropped 186 mph and its altitude fell 5,000 feet one minute before it crashed.
Meanwhile, Russian aviation agency head Alexander Neradko called Smirnov's comments "premature and not based on any real facts." He also asked investigators and officials "to refrain from drawing conclusions" this early in the process.
The possibility of the plane going down due to an "external impact" refocused attention on premature, and likely false claims made by an Egyptian ISIS affiliate on Saturday. The group claimed responsibility for the plane crash, though they did not specify how they brought it down.
Paul Beaver, a British military analyst interviewed by the AP, said "ISIS doesn't have a 'double-digit' SAM (surface-to-air missile) that is necessary to go up as far as 31,000 feet." Such would disprove the group's claims if the "external impact" theory proves to be true. However, Beaver went so far as to say that the crash was probably caused by a bomb on board the plane.
[h/t Associated Press]
[Image via screengrab]
— —
>> Follow Andrew Husband (@AndrewHusband) on Twitter
Have a tip we should know? tips@mediaite.com