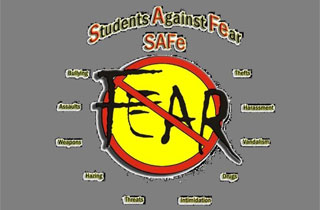 Sometimes, students post things on social media that indicates they're going to do something awful, and to prevent that terrifying outcome, an Alabama school district paid an ex-FBI agent $157,190 a year to spy on their Instagrams and Twitters.
Thanks to their vigilance, they caught and expelled a grand total of…14 students. (That's about $11,214.29 per student expelled.)
According to Alabama.com, the Huntsville City Schools paid the former agent, Chris McRae, to monitor its 24,000 students over the past year via a program called SAFe, Students Against Fear. Of these students, 600 were flagged by students and teachers, and McRae would then comb through their online accounts for "for images of guns or gang signs."
Oh, and lest this story is not bizarre enough for you, there's an undercurrent of racially-motivated expulsion:
On Oct. 30, Huntsville City Schools provided records showing the system expelled 305 students last year. Of those, 238 were black.

That means 78 percent of all expulsions involved black children in a system where 40 percent of students are black. Expulsions related to social media investigations through the SAFe program were a small part of that total. Of those 14 expulsions related to SAFe, 86 percent involved black students.
Laurie McCaulley, the only African-American member of Huntsville's school board, justified the expulsions by pointing out that "these numbers tell me that I have kids with some major issues…What I think the board is doing is trying to provide a safe environment for all children." Yes, by spending nearly $157,000 on expelling 14 kids. Yep.
[h/t The Daily Intelligencer]
[Image via Huntsville City Schools]
—
>> Follow Tina Nguyen (@Tina_Nguyen) on Twitter
Have a tip we should know? tips@mediaite.com