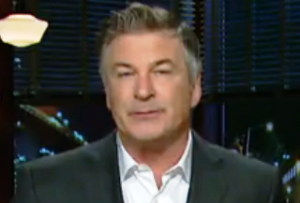 Alec Baldwin's MSNBC show Up Late was suspended for two weeks, but according to the show's star, it may not be coming back after all. In a new blog entry for The Huffington Post, Baldwin struck a rather defensive tone, defending himself against the accusation he called a paparazzo a fag, and admitted his show may not be coming back.
At the outset, Baldwin addresses the aforementioned video and insists he did not use the word everyone has accused him of using, though he never actually says outright what word he used.
I never used the word faggot in the tape recording being offered as evidence against me. What word is said right after the other choice word I use is unclear. But I can assure you, with complete confidence, that a direct homophobic slur (or indirect one for that matter) is not spoken.
As for his MSNBC show, its fate is up in the air right now, and while Baldwin lamented the fact that a special show he had planned for the JFK assassination anniversary, he admitted the show's fate would be no different from so many others in the cable news business.
Whether the show comes back at all is at issue right now… But if the show dies, its fate ends up being no different than the vast majority of start-up TV programming, and so be it. We do take a small amount of pride in knowing that we beat CNN in the ratings each of our nights. (I forgot who they had on at that time.)
Anderson Cooper, for the record.
Baldwin praises his current and perhaps-soon-to-be-former MSNBC colleagues, singling out Rachel Maddow as "the single most important television journalist on the air today," and uses the opportunity to once again go after the paparazzi that's flared his nostrils on more than one occasion, and deny flat-out that he is in any way a bigot, a claim made quite boldly by blogger Andrew Sullivan.
[T]he assertion that I am a bigoted homophobe travels at light speed and, at least in the case of those who like their internet news without fact or reflection, is accepted, even cheered, without a moment of doubt.

Additionally, the press never turns the camera around on themselves. Least of all the tabloid press. My wife is a young mother with a newborn child. Yet reporters harass and hector her and our baby outside our home in ways that approximate a hockey brawl. It is shameful. And it should be illegal.
Are you going to miss Alec Baldwin's MSNBC show if it goes? Or, for that matter, did you know before this week Alec Baldwin had an MSNBC show?
Take our poll below:
— —
[h/t Raw Story]
[photo via screengrab]
— —
Follow Josh Feldman on Twitter: @feldmaniac
Have a tip we should know? [email protected]
Josh Feldman - Senior Editor