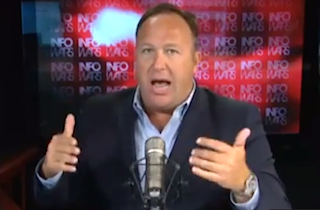 Alex Jones has a history of calling attacks of all stripes that happen in this country "false flag" operations. He did it with the Boston Marathon bombing and the Washington Navy Yard shooting. And now he's at it again.
During his InfoWars.com radio show Monday, Jones accused the U.S. government of staging the Las Vegas shooting allegedly committed by Jerad and Amanda Miller that left two police officers and one civilian dead over the weekend in an attempt to smear conservatives before the midterm elections.
"There is so much proof of this being staged yesterday, when I first read about it, and this morning, that my mind exploded with hundreds of data points, and quite frankly it's conclusive," Jones said, before outlining why he believes this event is one in a long line of similar "false flag" operations perpetrated by the Democrats.
Jones cited the attack on a U.S. consulate in Benghazi, the chemical attacks in Syria and the "Fast & Furious" gun deal in Mexico as examples of other "false flag" operations committed by the U.S. If the government would stage those, he said they would "absolutely" use the Millers to kill two police officers in Las Vegas.
"Would they do this to get our guns and blame the tea party that's sweeping in every runoff election and primary right now?" he asked. "I kept telling, they're getting ready to false flag, and it happens right in Harry Reid's district, right in his state, right in his city, with his police department."
Listen to audio below, via InfoWars.com:
During the same show, Jones described in detail how he would have executed the Vegas "false flag" operation. "This is just one way to do it, I'm not saying this is how it was done," he said.
Watch video below, via RWW:
The difference between the Las Vegas event and others that Jones has declared "false flag" is that Jerad Miller was a self-described Alex Jones fan. Not only did Miller "like" Jones on Facebook, but he consistently posted links to InfoWars.com on his page and once promoted the site to his friends by saying, "get informed or get stupid." In one video he laments that his family has not awoken to the dangers of the "New World Order," something of which Jones frequently warns.
MMfA posted a full compendium of nearly every time Miller posted a link to InfoWars over the last couple of years, including this image of Jones last March: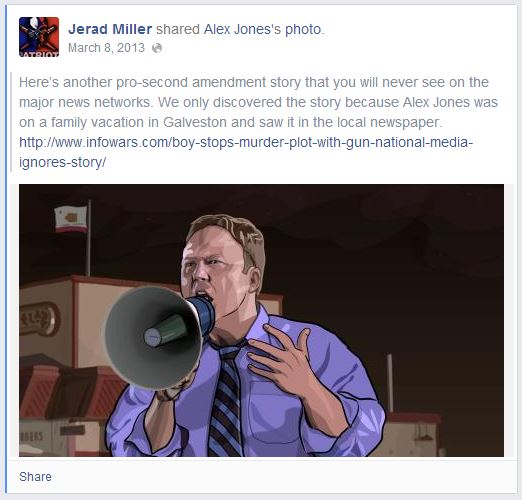 [Photo via screengrab]
— —
>> Follow Matt Wilstein (@TheMattWilstein) on Twitter
Have a tip we should know? tips@mediaite.com