All Hail The Internet! Video Of Man Belting Out Katy Perry On Crowded Bus Gets Auto-Tuned To Glorious Effect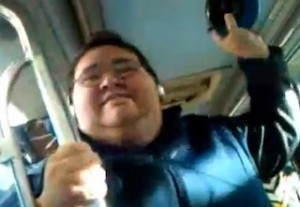 Here's what we know of the following story. A young man riding a crowded bus in Jersey City showed zero inhibition in belting out the Katy Perry's California Girls while listening on his discman(!). The odd but strangely sweet video begins to go viral (particularly on the video section of the social news aggregation site Reddit) and some commenters reveal that the subject is somewhat "mentally disabled" and very sweet-natured kid (as evidenced by his very pure and sweet id in the video.) Reddit commenter "heavymetalpancakes" then decides to take the source material, auto-tune the vocals and add a backing instrumental track…et voila! The world becomes a better place!
First the 1-minute video of the unabashed Katy Perry fan singing California Girls acapella (followed by the viral gold):
A debate suddenly starts on the comment section of this video (as many on the Internet are wont to opine on material) between those who find the kid in the video annoying or endearing. An an individual who claims to be familiar with the kid (and the NJ Transit bus route) in question, provides the following comment:
I live in jersey city and i've seen this kid on the bus as well when i went to high school and yes he is mentally disabled. he always sings on the bus. he may not be the best singer and he may be "retarded" as what you guys say but he sure is polite and will probably help you out more then any other assholes on the street.
The motivation behind the auto-tuned version isn't clear, I like to imagine that "heavymetalpancakes" created the following version as a means to humanize and support the singer in question. Move over Numa Numa kid, we may have just found our latest New Jersey viral video star!
And now the hit you have been waiting to hear, soon to go to be mixed at your favorite earnestly ironic hipster bar or club:
Have a tip we should know? tips@mediaite.com
Colby Hall - Founding Editor