Megyn Kelly Talks To Mediaite About Jon Stewart, Roger Ailes And Maternity Leave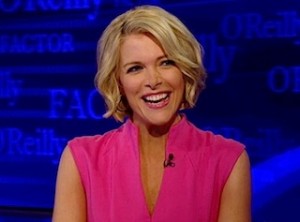 There's no question that Megyn Kelly is a rising star at Fox News, but her recent absence from the airwaves due to the birth of her second child (coinciding with Glenn Beck's departure) seemed, to many, to reaffirm her importance to the cable news leader. Joni Mitchell's "You don't know what you've got till it's gone"? is an apt refrain for the executives at FNC, who were all to eager to see her back on air. In an extensive and candid interview, Kelly shares her thoughts on public perception of Fox News, Jon Stewart's mockery, and even Weinergate.
The decor of Kelly's Fox News office reveals an extremely organized, yet busy, individual. Perfectly hung picture frames purchased fresh from West Elm hang in precise symmetry throughout the office, though nearly all the frames are empty. The down-to-earth news host laughs off the empty frames, sharing her plans to cover her office with the faces of her kids, and revealing a larger challenge for any working mother: balancing the needs of playing an active and nurturing role in her children's lives, while still pursuing an active career path.
While any television personality gets paid to come across in a "certain way," it's clear in her mien that Kelly isn't in this business for the fame, fortune, or influence. She's a whip-smart lawyer who doesn't need a flack to parse her words for her. In that respect, she is a very tough interview – she seemed to recognize the subtext of every question that was coming – almost as though she spent roughly two hours a day on live television honing this very craft.
Mediaite: Let's talk about your reception coming back. It seems as though a lot of people are happy to see you back on air. Can you just speak broadly about the reception you've received on Fox News, and perhaps elsewhere?
Megyn Kelly: It's been very gratifying. It does have a feeling of family around here. It feels like I'm seeing family members who I haven't seen in a long time. It's been really warm, and the viewers have been incredible. Everyone had good wishes, they remembered my children's names, and they're so kind because they'll write in e-mails like "We're so glad to have you back, but the women who filled in for you did a great job too," and I appreciate that, because those are my colleagues who I like and respect too. It just seems like they're welcoming me back with open arms, but not to disparage anyone else who was there while I was gone.
On Fox News: "If people don't watch Fox News, then it's just a caricature… I think some people really can't stand, for example, Sean Hannity. But if you met Sean Hannity, no matter how far to the left you are, you'd probably love him."
Mediaite: The Mike Gallagher interview in which you called him out for some less than supportive comments he made about maternity leave was good TV. It seemed to be somewhat light-hearted, but you didn't necessarily let him off the hook.
Kelly: I did not hear his remarks when I was on maternity leave because I was very unplugged. But then I gave an interview to Marie Claire, and the woman who interviewed me raised it with me. And I told her the truth. I thought it was a boneheaded thing to say. Then I saw the actual transcript of what he said, and I said, "I can't believe that he would say this." I know Mike Gallagher, he comes on my show regularly, what could he possibly have been thinking? And then I learned when he came on the show he was thinking I would never hear it. But to his credit, he knew I was going to ask him about it, and he came on and was a good sport anyway.
It was an opportunity to talk about an issue that actually is important to me. And he was fine with that. Some people feel the way he feels, and so it gave us a moment to discuss something that gets almost no coverage.
Mediaite: Marie Claire published a feature on you in which you reveal a nice story of how Roger Ailes which got some attention unto itself.
Kelly: I was actually amused that the takeaway was "Roger Ailes did a good deed!" I mean, his generosity to both people inside and outside the company is legendary. I guess because it's rarely reported, it caught people by surprise.
Mediaite: Is there a disconnect between your personal experience at Fox News and the way you often see it portrayed in the media?
Kelly: I think people have an idea of what Fox News is. If people don't watch Fox News, then it's just a caricature, it's not real, they have it in their heads that it's something very different than what it actually is. I think to some extent the executives here have that same issue, and so does some of the on-air talent. I think some people really can't stand, for example, Sean Hannity. But if you met Sean Hannity, no matter how far to the left you are, you'd probably love him. He's a very super-nice guy, he always has time for everybody. Some people don't like Geraldo because of his stance on illegal immigration or whatever. He is the most beloved man in New York City. You walk through the streets with that man, no one has the popularity Geraldo Rivera has. So I see that because I work with these guys every day, whether they're executives or anchors, and I see it at a larger extent with respect to the channel.
>>>>NEXT – Megyn Kelly discusses getting mocked by Jon Stewart, her view on entitlements and maternity leave and how media obsess over the news.<<<<
Have a tip we should know? tips@mediaite.com