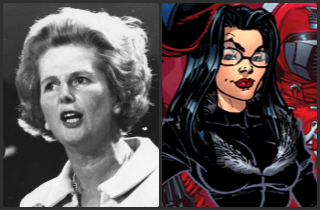 "I am in politics because of the conflict between good and evil, and I believe that in the end good will triumph." So said the late Margaret Thatcher, who led Britain out of decay and into prosperity.
Thatcher's accomplishments are simply a matter of historical fact — attempts to refute her impact or legacy ignore, at the very least, the clear present-day evidence: Britain has not suffered the same fate of its European counterparts, such as Greece and Spain. But dismissing Thatcher's achievements, or twisting them as failures, was par for the course during her leadership, and still is today. Common derisive nicknames at the time included: "Attila the Hen" and "The Milk Snatcher." And (the usually gracious) Meryl Streep, who portrayed Thatcher in a recent biopic, had few kind words for the film's subject, simply describing the former Prime Minister as 'cruel.'
It is no surprise, then, that Thatcher once wryly remarked: "If my critics saw me walking over the Thames, they would say it was because I couldn't swim."
Thatcher famously stated her objective, while an enormous challenge, was a clear one: "I came to office with one deliberate intent: to change Britain from a dependent to a self-reliant society — from a give-it-to-me, to a do-it-yourself nation." And with that in mind, she set to work. Just what did Thatcher accomplish? In light of word-count limits, I shall highlight but a few:
under her policies, the British GDP skyrocketed and their economy grew to be the 4th largest in the world;

disbanded and sold off state-owned industries, flooding the private sector with hundreds of thousands of jobs;

enabled home ownership by devising a way in which government-housing residents could buy into their abodes;

held firm against the Soviet Union (who do you think bestowed "The Iron Lady" nickname on her!) while offering the hand of diplomacy, meeting with Gorbachev and developing a rapport with him;

consistently championed free markets;

lowered inflation;

raised British exports;

raised the British pound's value;

lowered income tax rates;

demonstrated she was no wallflower on foreign policy, decisively handling the Falklands and green-lighting the Americans' use of British bases to attack Qaddafi;

confronted the Big Labor power that dominated the British worker, particularly when squaring off against Marxist Arthur Scargill, head of the National Union of Mineworkers, in a contentious public battle not unlike that which Reagan experienced with the air traffic controllers strike only a few years earlier;

cut government funding for unnecessary arts and similar 'fluff' programs;

eliminated countless, stiffling regulations….
One could go on and on…
A true radical, Thatcher emphasized conservatives were the party of reform, not of the status-quo. She saw herself as a rebel, noting: "You don't follow the crowd. You make up your own mind."
Demonstrating this punk-rock attitude, Thatcher had no time for, nor interest in, the negativity. Known for barely reading the newspapers, she shrugged off attacks, noting: "If you just set out to be liked, you would be prepared to compromise on anything at any time, and you would achieve nothing."
Aside from her many accomplishments 'on paper,' there is, of course, Thatcher's role as a pioneer for women. But few stop to acknowledge that Thatcher was also a pioneer for the poor and middle class, as the daughter of a grocer who went on to hold the highest post in the land. Thatcher was not born in posh surroundings to well-connected or well-to-do parents — she and her family lived in a modest apartment above the shop owned by her father who was, in turn, the son of a shoemaker. Before there was Bill Clinton, before there was Barack Obama, both from humble beginnings, there was Margaret Thatcher. What greater role model can there be for children who are disadvantaged economically or socially?
Curiously, whenever I hear Thatcher referred to by her formal title, the Baroness, I instinctively conjure an image of the famed Marvel Comics vixen and correct myself.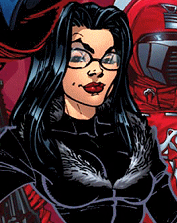 But, come to think of it, the headstrong, beautiful, tough woman in those comics, fighting off her enemies to follow her path, is in fact much like Prime Minister Thatcher.
So forget Cleopatra, Elizabeth I, Hillary — the Iron Lady may just be politics' coolest, fiercest female role model yet. Rest in peace, Baroness, knowing you not only accomplished what you set out to but inspired millions of others to do the same.
There is no legacy greater than that.
——
[image courtesy of Wikipedia]
Follow AJ Delgado on Twitter >>> @missADelgado
Have a tip we should know? tips@mediaite.com