And Now the AP Photo Director Decries White House's 'Orwellian' Stranglehold on Taking Pictures
Feldman: And Now the AP Photo Director Decries White House's 'Orwellian' Stranglehold on Taking Pictures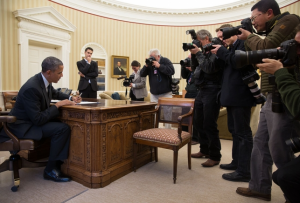 Photojournalists are still very upset that they are not being granted the same level of access as the official White House photographer, and one of them is amping the fight up a few notches. Santiago Lyon, the vice president and director of photography at the Associated Press, penned an op-ed for The New York Times in which he decries the Obama administration as "Orwellian" for not letting photographers take pictures of him.

Lyon accuses the White House of releasing a "sanitized visual record" of official White House events instead of letting photographers from news organizations in to snap pictures of their own. He makes the undeniable point that President Obama has managed things in "hypocritical defiance of the principles of openness and transparency he campaigned on" and how the official pictures released are "visual news releases," but then goes on to accuse the White House of being borderline dictatorial.
If you take this practice to its logical conclusion, why have news conferences? Why give reporters any access to the White House? It would be easier to just have a daily statement from the president… and call it a day. Repressive governments do this all the time…

Until the White House revisits its draconian restrictions on photojournalists' access to the president, information-savvy citizens, too, would be wise to treat those handout photos for what they are: propaganda.
Many Americans are very sympathetic to the idea that Obama has reneged almost completely on his promise of transparency, but as I've detailed in this space before, the right to snap photos of the president in action ranks very low on the rung of transparency issues with this administration.
When Chuck Todd defended this press crusade on his show this week, as a specific example he cited journalists being able to capture, in their own different ways, the "body language" of Obama and Hillary Clinton at a lunch the two of them had. I don't know that people are necessarily going to sympathize with the ability of journalists to capture and analyze the body language of the president throughout the course of his day, comparatively speaking.
[photo via Pete Souza, because fun fact: official White House photos are in the public domain, and so it's less of a copyright headache to use them]
— —
Follow Josh Feldman on Twitter: @feldmaniac
This is an opinion piece. The views expressed in this article are those of just the author.
Josh Feldman - Senior Editor