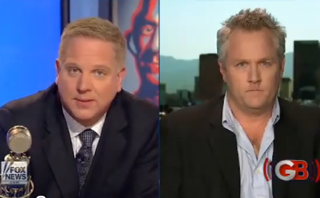 Glenn Beck is very much not a fan of Newt Gingrich. If anyone didn't yet know that from this interview, he made it very clear Saturday on Fox Business Network when he alleged that Gingrich was so similar to President Obama in his "progressive" ways, that the only reason Tea Partiers would like him over the President would be because of his race. Unsurprisingly, this has caused some anger. Even less surprisingly, one of those angry voices is Andrew Breitbart, a man who is very much not a fan of Glenn Beck.
Breitbart appeared on the Victory Sessions podcast and slammed Beck for, as his BigGovernment site put it, "pulling the race card" on the Tea Party. However, the Beck/Breitbart beef goes back a far way and one could tell this had as much to do with a heated, longstanding grudge as with the Tea Party comment.. In fact, Breitbart only discussed that comment briefly before moving on to a list of the many slights he feels he's received from Beck. He accused Beck of throwing him under the bus during the Shirley Sherrod scandal and trash talking him in private while poaching employees to create rival website The Blaze).
This was clearly personal.
"I don't know what to say because I know it makes me look like a bad guy and I know Reagan's 11th Commandment, but how many times can you have a baseball bat taken to your rib cage by a gang that have GBTV on your jerseys before you stand up for yourself?

…

This guy has always been about himself. You know, while you're sitting there watching him talk about the food shortage stuff, he doesn't tell you this ties to the Mormon Church. He doesn't talk to you about his investors. He doesn't tell you that they're paying for him to create a crisis. He always talks about Cloward-Piven and how Rahm Emanuel said 'Don't let a good crisis go to waste,' but creating a hysteria that there's going to be food storages because of chaos that is coming – he is profitting off this as well. There is a financial stake for him with food storage companies that advertise on his site. This guy is a huckster. He's always been a huckster. It was only a few years ago that he was a shock jock, that he was a morning zoo guy. And he's been taking people's content for years and not crediting it."
At the end of the interview, the podcast's host Stephen K. Bannon put it explained that this seemed to be something that "comes from [Breitbart's] heart" and that might be an understatement.
Listen to the segment from The Victory Sessions below:
Watch Glenn Beck's segment via Fox Business below:

Have a tip we should know? tips@mediaite.com