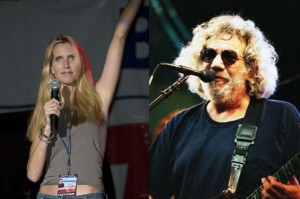 Conservative sweetheart (and subject of liberal loathing) Ann Coulter discussed her latest book, ¡Adios, America! on SiriusXM's Sit Down With Alfred and Chris. However, the Internet took particular issue with the pundit's taste in music — for example, The Grateful Dead.
Before the full interview even had a chance to air on Saturday, snippets detailing Coulter's status as a "Deadhead" made the rounds the Wednesday before. Unsurprisingly, most of the responses haven't been all that kind.
But what's weird about it all is the fact that Coulter's been an outed Deadhead for, oh, a while now. She briefly talked about it in an interview with Salon in 2003:
Coulter: That's why I love the Grateful Dead. You could listen to the same songs at a hundred different Dead shows and it would sound different.

Salon: You're a Deadhead!

Coulter: Oh yes.
A few years later, she discussed her musical tastes at length with Jambands.com:
Jam Bands: When and how was your last Dead show?

Coulter: I have no recollection of it whatsoever, other than that it was awesome. Actually, my last Dead show wasn't quite a Dead show since Jerry wasn't there, but I flew out to the Jerry Garcia memorial in Golden Gate Park, San Francisco with a fellow Deadhead from D.C. the weekend after Jerry went to the great psychedelic rock concert in the sky. The rest of the band played and it was great to be with my fellow Deadheads. It was very sad after Jerry died, not because I felt like I had a psychic connection to him or anything, but only because something really fun I liked to do, I couldn't do anymore. It would be as if all ski resorts just shut down one day. So the Golden Gate Park memorial was a good way to end it.

Jam Bands: How many Dead shows did you see?

Coulter: I used to keep all my ticket stubs from Dead shows it was just something Deadheads did, like keeping lists of songs but I didn't know why. So, in a lunatic cleaning frenzy around 1990, I threw them all out as if a small section of a drawer devoted to Dead ticket stubs was messing up the whole place. After Jerry died, I said, "Eureka! That's why we keep ticket stubs!" These are usually the sort of factual minutiae Deadheads excel at, but I failed because of my OCD cleaning obsession. So I'm not exactly, precisely 100 percent sure. I frantically tried to figure it out by checking with some of my fellow Deadheads after Jerry died and adding up the number of shows we had been to together, and I estimated it was about 67 shows. And they were awesome.
So there you have it. Yes, Coulter's a Deadhead, and so what? Just as musicians are wont to dive into political subjects whenever a camera is on them, political figures will sometimes dabble in music and music fandom. It happens.
Listen to the newest clips below, courtesy of SiriusXM:
[h/t Noisey]
[Image via Shutterstock.com]
— —
>> Follow Andrew Husband (@AndrewHusband) on Twitter
Have a tip we should know? tips@mediaite.com