Ann Coulter Takes On Ben Affleck And Maher During Feisty Panel On Libya, Bush And The TSA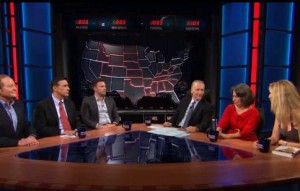 In a wide-ranging discussion available online, HBO host's Bill Maher eclectic panel — consisting of author and pundit Ann Coulter, actor and Argo director Ben Affleck, House Oversight and Government Reform Committee chairman Darrell Issa, and Montana governor Brian Schweitzer — tackled issues like ObamaCare, the situation in Syria, Libya, some TSA "butt stuff," and more.
Affleck made the point that Americans tend to view the Middle East as a monolith, without realizing or acknowledging political or religious factions within the region. Maher later added that, when "getting on Obama's back for not being detail-oriented enough to not be looking over the staffing decisions in Benghazi," it's good to keep in mind that former President Bush didn't know the difference between Shiite and Sunni Muslims.
Later, Maher asked Issa an interesting question from a viewer: What event, if any, from the Bush presidency would he have investigated? Issa responded that he'd have wanted to look into the idea of "flying C-130s filled with 20 dollar bills and handing them out in Iraq." There were, he added, a lot of "really dumb things done during the Bush administration," including waging war with Iraq in the wake of the 9/11 attacks.
Maher then posed a viewer question to Coulter, asking her how Obama could be stronger on foreign policy. Instead, she wanted to answer the question Issa had been given, replying that she would have investigated "Norman Mineta making us all have fingers stuck up our butts to go through airport security."
Maher didn't skip a beat: "That's just you," he told her.
Affleck called concern over the TSA "another Republican MacGuffin" (film talk!), prompting Coulter to point out that he flies private. Affleck then noted that, beyond the fatal terrorist attacks on September 11th, the terrorists also caused us to live in fear, bolstering security efforts. Issa responded that, no, the terrorists didn't do this, "we did it to ourselves."
A little later, Issa — who proved himself to be endlessly quotable — noted that "Homeland Security is proof that if you take a whole bunch of failed organizations and put them all together, they will metastasize."
When Schweitzer pointed out that Issa had voted in favor of the Patriot Act, Issa conceded and explained the process behind it quite calmly, leading Maher to note that he'd "gotten nicer" over the course of the show. "No," Issa disagreed.
Watch the segment from Real Time's "Overtime", courtesy of HBO.com:
Have a tip we should know? tips@mediaite.com