Jay-Z Confesses Love for Anna Wintour at 9/11 Concert, Joins Diddy in Unrequited Love Triangle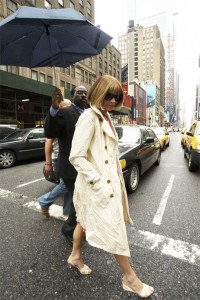 Somewhere between Fashion's Night Out on Thursday night, the eve of Fashion Week, and Jay-Z's "Answer the Call" September 11th memorial concert on Friday at Madison Square Garden, we learned a little something about Anna Wintour: Rappers love her.
It wasn't that strange that P. Diddy was invited to the "September Issue" premiere earlier this summer — after all, he's a pretty stylish guy with his own line of clothing and a proclivity for all things fashionable. But he was pretty giddy to be there, telling New York magazine:
"She's like a godmother to me. She probably doesn't know that, but I've adopted her as a godmother to me in fashion, because she's the first one who took me to the shows in Paris."
Diddy appeared in the official commercial for Fashion Night Out, Anna's pet fashion-industry stimulus project, and also in an unpolished and off-the-cuff video shot in Anna's office to promote the September 10th event (videos below). Diddy fawns over Wintour in the latter — kissing her when he walks in, wearing sunglasses in homage and trying to make her laugh. Anna finishes his sentences and cuts off the video when Diddy starts talking about how nice it is to wear fresh underwear. 'Hit the showers, Diddy.'
But then last night in front of 20,000 fans at Madison Square Garden, Jay-Z turned the spotlight on his own love for Anna Wintour.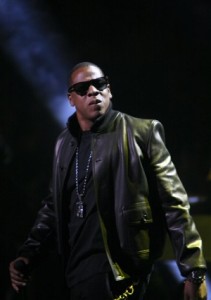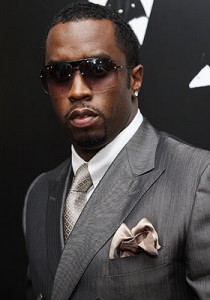 In his opening number, "Empire State of Mind," Jay-Z dropped Anna's name. No big deal — rappers drop names in their lyrics all the time, right? But what other names made it into the song? Oh just, Biggie, Bob Marley, DeNiro, Frank Sinatra, Spike Lee, Jeezy, Lebron and Dwyane Wade. So basically a roll call of bad asses … and Anna.
But, until her tastes become decidedly more wild, Jay and Diddy will have to settle for unrequited love. Anna, for her part, is already buddies with the ultimate fashionable black man.
Jay-Z performs "Empire State of Mind" at Madison Square Garden on Friday (Anna Wintour shout-out at 2:55):
P. Diddy, sporting sunglasses, drops into Anna Wintour's office to promote Fashion's Night Out:
P. Diddy, Anna Wintour et al. in the official Fashion's Night Out commercial:
Have a tip we should know? tips@mediaite.com