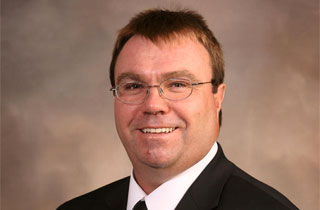 Why are the politicians with dick pic issues nearly always named after penis slang? Seriously, why? It's as if having a penis name as a legal name automatically sets up a male politician for a horribly embarrassing public downfall that involves a dick pic. So North Dakota State Representative Randy Boehning (R) should have seriously thought twice before 1) being vocally anti-gay rights, and 2) sending an image of his penis to some random person on Grindr.
But he didn't, and here we are.
After Rep. Boehning had voted against a bill that would have expanded anti-discrimination rights for LGBT citizens, the Fargo Forum published a splashy front page featuring his photo, as well as the photos of every representative who also voted against the bill. 21-year-old Dustin Smith, a Bismarck resident, soon recognized Boehning as a Grindr user named "Top Man!" who'd been flirting with him for the past year and sending him many a pic, some with his face, and at least one dick pic during the time frame of the contentious discrimination bill vote.
"How can you discriminate against the person you're trying to pick up?" Smith rhetorically asked The Forum.
When confronted with the graphic evidence, Bohening initially remained silent, but eventually admitted that yes, he was gay, and that a few people had known, including some legislators who he alleged had attempted to blackmail him. "The 1,000-pound gorilla has been lifted," he said, apparently relieved that he'd been outed. "I have to confront it at some point."
Despite his own personal orientation, Boehning said he'd voted against the bill because it would have gone against the will of his constituents. But what he does with his own smartphone and his own dick is another matter:
But on Saturday he confirmed he was Top Man! and said he doesn't think sending a graphic photo of himself to a stranger is a lapse in judgment, as Grindr is an adult site where users often exchange such images.

"That's what gay guys do on gay sites, don't they?" Boehning said. "That's how things happen on Grindr. It's a gay chat site. It's not the first thing you do on that site. That's what we do, exchange pics on the site."
[h/t Gawker]
[Image via North Dakota House of Representatives]
—
>> Follow Tina Nguyen (@Tina_Nguyen) on Twitter
Have a tip we should know? tips@mediaite.com