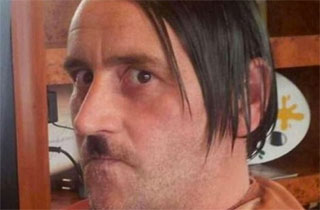 Lutz Bachmann, the founder of a group calling for Muslims to be kicked out of Germany, was forced to resign from his position after photos of him dressed as Adolf Hitler emerged, as well as derogatory comments about immigrants. (We don't suppose you'd be surprised that the leader of Germany's burgeoning anti-Islam movement has a photo of himself dressed as Adolph Hitler, but let's pretend that you are.)
Bachmann, the founder of Patriotic Europeans Against the Islamisation of the West (known in Germany as PEDIGA), resigned from his position after a German paper published the photos, initially posted on Facebook. He initially tried to downplay the selfie as a joke, taken to commemorate a satirical book about the comeback of Hitler, but changed his tune after German state prosecutors announced a criminal investigation into his "suspected incitement to hatred," reports the Financial Times.
Complicating the matter is the fact that he has a pretty consistent background of posting racist stuff on the internet:
The newspaper also carried screenshots of conversations allegedly taken from Mr Bachmann's Facebook account, in which he appeared — in 2014 — to describe asylum seekers as "cattle" and "waste".

On another occasion, Mr Bachmann posted a photograph of a man wearing the uniform and pointed hat of the Ku Klux Klan, the US white supremacist organisation, with the caption: "Three K's a day keeps the minorities away."

A defiant Mr Bachmann on Wednesday posted a photograph of comedian Charlie Chaplin from the Hitler-based comedy The Great Dictator. The caption read: "He is allowed satire . . . Lutz is not."
PEDIGA came into the news shortly after the Charlie Hebdo attacks, when it gained prominence for calling for the end of Europe's "Islamisation" and to stem the rising wave of immigrants into Germany, mainly from Muslim countries. Weeks ago, some 25,000 people showed up to a PEDIGA rally, and according to the Times, several German politicians are quietly trying to court the group's members.
That movement may be temporarily halted thanks to Bachmann's Hitler antics, however. "In politics, whoever dresses up as Hitler is either a real idiot or a Nazi," deputy chancellor Sigmar Gabriel said, reflecting the country's legally-enforced revulsion towards Hitler. "Everyone should think hard about following such a rat catcher."
[ht Raw Story]
[Image via Facebook]
— —
>> Follow Tina Nguyen (@Tina_Nguyen) on Twitter
Have a tip we should know? tips@mediaite.com