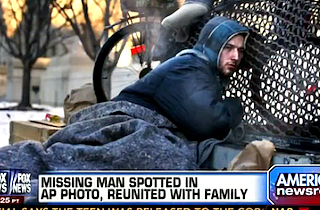 "Please contact me. You wrote an article for USA today that features a picture of my missing brother."
That was the tweet Natalie DiBlasio received on Sunday morning about her gallery of photos in USA Today on the weekend's cold snap. The tweeter, Hannah Simmons, was attempting to track down her brother, who had disappeared from a suburb of Rochester, NY on Wednesday, and had recognized a man in a local edition of the slideshow. Could he be the man the photo caption only referred to as "Nick"?
DiBlasio connected Simpson to the photographer, Jacquelyn Martin, who had chatted with Nick in a huddle of homeless people in Washington, D.C. before taking his picture. Martin led Simmons family friends to the spot where she had snapped Nick's photo. He was quickly located by police, and brought to a hospital out of precaution, though was apparently fine despite several chilly days on the streets.
The Simmons family had started a Facebook page to publicize Nick's disappearance in hopes of finding him, but police from Greece, the Simmons' suburb, said that the photo was the only lead they'd had in the case. "It was pure dumb luck how all this happened," one of the officers told the Associated Press. "It's truly a miracle."
"It's very easy to put people in a box and to forget that these are real people who have families who love them and are worried about them," Martin said. "An experience like this really reminds you that every person has a story."
Watch a video on the segment here, via Fox News:
[h/t USAT]
[Image via screengrab / Jacquelyn Martin/AP]
——
>> Follow Evan McMurry (@evanmcmurry) on Twitter
Have a tip we should know? tips@mediaite.com