After a Mediaite column pointed out that Associated Press was selling pictures of a Charlie Hebdo cover featuring God as a terrorist after refusing to show the covers of Muhammad, the AP responded by pulling the God cover as well.
As the original story pointed out:
The Associated Press also did not carry any images of the Muhammad cartoon, saying in a statement, "It's been our policy for years that we refrain from moving deliberately provocative images."

Presumably, this is no longer AP policy, since you can now buy this picture for editorial use: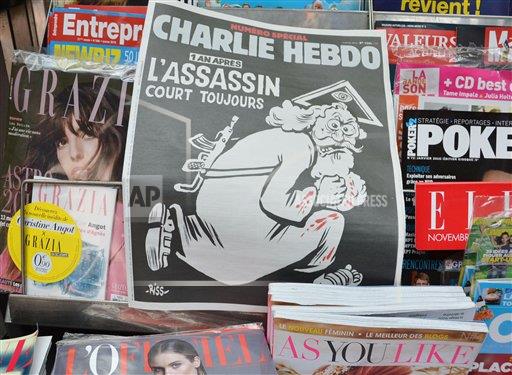 But that photo is no longer available after The Washington Post's Erik Wemple asked AP about the discrepancy:
When we pointed out that Mediaite's Alex Griswold had found an AP-sourced photograph showing the current Charlie Hebdo cover, an AP rep responded: "12 photos have been taken down from AP Images, which is the commercial photo licensing unit of AP. The photos came from two content partners that have a direct feed into AP Images." Lesson: Once you start censoring, you have to do more censoring to stay consistent.
For the record, it's flattering to see your work get results… but this was not exactly the result I wanted. The way to deal with religious extremist threats to press freedom isn't to censor more cartoons. Better to be a hypocrite than hypersensitive to anything that can offend anyone for any reason.
It's also worth noting that almost this exact scenario played out one year ago. After AP said they would not publish the Muhammad cover, readers pointed out that they still sold images of Piss Christ, the controversial anti-Christian artwork. After those complaints, Piss Christ disappeared as well.
[Image via Chalie Hebdo]
——
>>Follow Alex Griswold (@HashtagGriswold) on Twitter
This is an opinion piece. The views expressed in this article are those of just the author.