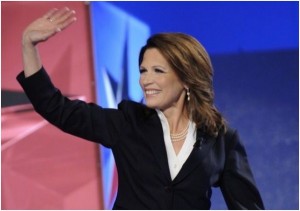 Michele Bachmann has taken from Sarah Palin an honor we hoped would be retired when Palin's stylist won a reality show of her own, but apparently is still an issue of interest: the coveted Most Requested Hairdo of the Election Cycle. The New York Daily News reports today that stylists have been receiving more and more requests for Bachmann's soft auburn 'do. Having been amped up recently, as her election gains speed, the look "is safe, but not soccer mom. It's sexy," said one stylist.
The appeal of Bachmann's 'do crosses party-lines, as well. "I have women who come in with photos with the face cut out sometimes," admitted another stylist. A nation of Bachmann look-a-likes, it seems, does not necessarily imply a nation of Bachmann voters, as good hair remains a non-partisan issue.
"Politicians are the new celebrities, because they're real. They didn't just spring up out of the red carpet," suggests Andi Scarbrough of Byu-ty Hair Therapy in L.A. They do, however, spring up out of a carefully conceived campaign plan. One might argue that Bachmann's hair style is popular because it looks a lot like that long-layered cut you already have, just a little bit better. Bachmann's stylist, Tamara Robertson, has billed the campaign $4,700 for the makeover. To get her "fiscally conservative" look on your own costs between $150 to $300, and requires more regular maintnance than your average style (we are not exactly experts here, but layers and coloring require touch-ups and glosses in order to keep looking perfect). Seeing as this is all probably unrealistic for most woman, this doesn't strike us as a real trend so much as a new form of political celebrity that functions with a certain verisimilitude.
The good news is, that while these sort of "best hair" features are often run about female politicians, it seems as if real woman are able to separate the hair from the head when it comes time to cast their vote.
Have a tip we should know? tips@mediaite.com