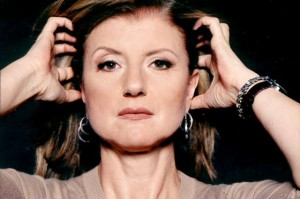 While the Huffington Post immediately released a response to the lawsuit filed against it by a group of disgruntled bloggers seeking payment – calling the suit "baseless" before having read it – its founder, Arianna Huffington, has now issued a more in-depth criticism of the document.
And, if her kitten jokes are anything to go by, Huffington isn't terribly worried about the lawsuit:
The lawsuit filed Tuesday by Jonathan Tasini is so utterly without merit, and has been so thoroughly eviscerated in the media — including being ridiculed as the "dumbest lawsuit ever" — I am hesitant to take any time away from aggregating adorable kitten videos to respond.

But the suit touches on so many important issues about the current state of the media, the kittens will have to wait.

First, let's look at the merits of the case:

There are none.
Then, beyond insinuating that Tasini's motives may be more opportunistic than noble, Huffington maintains that the main issue at hand here is that absolutely no contract was broken between the Huffington Post and its contributors.
Furthermore, she adds, HuffPost's "group blog" – to which unpaid, non-staff bloggers contribute – provides a flexible and highly visible platform for exposure. And, besides – the silent majority of Huffington Post bloggers are fine with the way the group blog is set up.
While that all makes a heaping amount of sense, we're not too sure Huffington's continued comparison to the free content provided on her site and the free content available on, say, Facebook bolsters her argument:
Free content — shared by people who want to connect, share their passions, and have their opinions heard — fuels much of what appears on Facebook, Twitter, Tumblr, Yelp, Foursquare, TripAdvisor, Flickr, and YouTube. As John Hrvatska, a commenter on the New York Times, wrote of the Tasini suit, "So, does this mean when YouTube was sold to Google that all the people who posted videos on YouTube should have been compensated?" (And Mr. Hrvatska no doubt contributed that original and well-reasoned thought without any expectation he'd be paid for it. He just wanted to weigh in.)
The difference here is that YouTube, Twitter and the like don't demand quality content, and a review on Yelp, for instance, doesn't represent Yelp as a company or brand, whereas a Huffington Post blog post does. And privacy settings on sites like Facebook indicate that the purpose of the site isn't necessarily to provide a wide-ranging platform for self-expression or discussion but, rather, a place to share photos and links with a set number of friends. Following this line of thinking, filing a very public lawsuit is just a way for Tasini to seek further exposure.
It's a bit like comparing apples to adorable little kittens, really.
h/t Huffington Post
Have a tip we should know? [email protected]