Arizona Gun Store's Message To Customers: If You Voted For Obama, 'Your Business Is Not Welcome'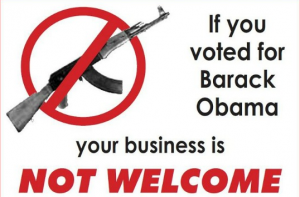 The folks running the Southwest Shooting Authority in Pinetop, Arizona are none too pleased with President Barack Obama's re-election. To the point where it's influencing their business decisions. The store ran a full-page ad telling Obama voters that their "business is not welcome" at the store.
The ad reads: "If you voted for Barack Obama your business is not welcome at Southwest Shooting Authority. You have proven that you are not responsible enough to own a firearm."
Additionally, the store displays a similar sign that says: "If you voted for Obama, please turn around and leave! You have proven that you are not responsible enough to own a firearm."
Cope Reynolds, the store's owner, explained the decision in a letter posted on the website AmmoLand:
To Whom it May Concern:

I thought you all might be interested in this.

We will try to demonstrate once again that the bottom line for our business is principle, not money.

Yes, it has been damaging at times but our values are intact.

Effective immediately, if you voted for Obama, your money is no good here. You have proven beyond a doubt that you are not responsible enough to own a firearm. We have just put a sign up on the front door to save you the trouble of walking all the way in here…

I took this ad out in our local paper. It will come out in the White Mountain Independent tomorrow, 9 November

Sincerely,
Cope Reynolds
Of course, this isn't exactly a policy that can be effectively enforced. But it's not meant to be:
Obviously, this is nothing more than a political statement. Of course, it would be impossible to enforce. If they don't say anything, we'll never know. They could purchase whatever they wanted and they would probably get a big kick out of thinking that they are rubbing it in our face as they walk out the door. Some folks are easily amused that way.

However, if they own up to it, we will not serve them. This goes way beyond gun control, which many think is why we did this. I should have as much right to post a sign on my door as those that post "No Guns" on their doors.

Sincerely,
Cope Reynolds
As the Phoenix New Times notes: don't ask, don't tell.
(H/T TPM)
Have a tip we should know? tips@mediaite.com