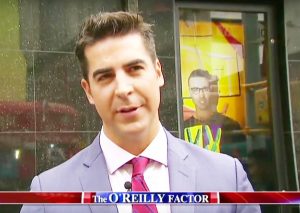 Earlier today, we told you about the new Jesse Watters video that has been causing  a stir. We also told you that Bill O'Reilly himself admitted that Fox News would be getting a lot of "letters" over the clip, which featured Watters running through Chinatown and asking people on the street about the election, karate, performance-enhancing herbs, possibly stolen watches, and whether he should bow before speaking to Chinese Americans.
O'Reilly was right! Fox News has been hearing from people. Those people aren't just writing comments on YouTube and Mediaite dot com, though! Some of them are heavy-hitters from big organizations and they are none too pleased with Watters' antics.
The Asian American Legal Defense and Education Fund weighed in:
This racist mocking of people in NY #Chinatown makes clear that @FoxNews doesn't care about Asian American voters. https://t.co/uTfr8WkoME

— AsianAmericanLegal (@aaldef) October 5, 2016
Seriously, can this @FoxNews @oreillyfactor piece with interviews in NY #Chinatown be any more racist? https://t.co/dhGb1eJ4hP

— AsianAmericanLegal (@aaldef) October 5, 2016
The Asian American Journalists Association has released a formal statement that includes the following:
The Asian American Journalists Association (AAJA) is outraged and shocked by the Oct. 3rd segment of "Watters' World" on Fox News' "The O'Reilly Factor." The segment was billed as a report on Chinese Americans' views on the U.S. presidential election but it was rife with racist stereotypes, drew on thoughtless tropes and openly ridiculed Asian Americans …  We deserve far better treatment and coverage than we've been given by this Fox News report. AAJA MediaWatch demands an apology from Fox News to our community and a meeting with the show's producers to understand how this segment was conceived and greenlit to air. More importantly,  we want an explanation for how this type of coverage will be prevented in the future.
Emphasis ours.
According to Politico, when they asked Fox News for comment, they were pointed to an interview Watters gave earlier this year during which he said he "doesn't want to hurt anybody's feelings" and wants to "listen to them and have them share with me their thoughts and opinions in a way that doesn't come across as mean."
We have reached out to Fox and will update if they tell us anything different than that.
UPDATE –– 5:37 pm ET: Watters has addressed his comments on Twitter. More here.
[image via screengrab]
Have a tip we should know? tips@mediaite.com