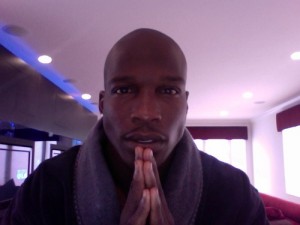 Today we learned the NFL doesn't want its players to use Twitter for football-related communication with fans.
But for now, we're still treated to a bevy of NFL athlete tweets (athtweets?). Today, Chad Ocho Cinco of the Cincinnati Bengals gives a tour of training camp, complete with pics, but also calls out a reporter as an "idiot" for something he wrote.
Ocho Cinco (real name, by the way) tweets under the Twitter name @OGOchoCinco and today was not happy with a story by Mark Kriegel of FoxSports.com. Kriegel pans Ocho Cinco's UStream show after watching it for a bit:
At this point in my career, there are some humiliations I should no longer tolerate. Listening to "The Ocho Cinco Show" is among them. Still, these chump ballplayers who think they're fabulous and interesting — who believe their personal minutiae has actual merit — despite never having won a thing, point to a larger problem.
Ocho Cinco responded via Twitter: "Mark Kriegel you're an idiot, you want a Lil fame I'll help, because your story today sucked just like you did in school!!!" Also: "Please read article on foxsports.com, this is how you know there's nothing going on in the world, when enjoying yourself and yo job is wrong."
Truthfully, Ocho Cinco has one of the most active and interesting athlete Twitter accounts, complete with unparalleled access to what's happening in Bengals training camp. It's a must read for sports fans – and now Mark Kriegel-haters as well.
Turning from the gridiron to the hardwood, there's an NBA-Twitter story in the news today as well. Apparently J.R. Smith of the Denver Nuggets is sending gang messages through his Twitter account. See, when you change all letter 'c's to 'k's, as Smith does, it is a Bloods-associated action. Sample tweet: "I just Kame home….I kouldnt have done it with out yall."
According to the Denver Post, Smith's agent hasn't responded to calls for comment. But in a way, Smith responded…on Twitter (of course): "People please watch what you say on here it gets me in a lot of trouble!"
• Update: Well now look what you did, PC police. Smith just tweeted: "ok people i love all of my fans im sorry but this will be my last tweet you know why but it is what it is love all an take Care!" and promptly closed his Twitter account. I hope you're happy…
—–
» Follow Steve Krakauer on Twitter
Have a tip we should know? tips@mediaite.com