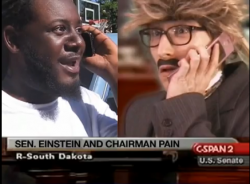 If you, like me, are a vicious cad, when you saw the first two videos in the wildly popular Auto-Tune the News series (here's the first and here's the second), you probably thought, "this is great, but what's with all the weird glowing people who keep popping up and interrupting the funny singing newscasters?"
Those weird glowing people were, of course, the musicians who came up with the thing. According to a New York Times op-ed:
The Gregory Brothers, transplants to Brooklyn from Radford, Va., are a serious soul band, but ever since the sudden success, this spring, of their deliriously funny YouTube series "Auto-Tune the News" (which turns news footage of politicians and pundits into pop jams), they've been devoting ever more time to keeping their hundreds of thousands of online fans entertained.
Which is all well and good. They are talented musicians who deserve their airtime, a video of just singing newspeople would probably plod along, and there is an ineffable delight that comes of hearing someone address The Washington Post's veteran op-ed columnist Ruth Marcus as "shawty."
But lately, there have been a lot of weird glowing people and not that many newscasters or newsmakers. #7 was also shaky on the news front, but it redeemed itself with an uproarious loop of Pat Buchanan's very, very dated views on black athletes. #8 has a little Joe Biden, a little Michael Vick, a little Katie Couric (redeemingly referred to as "Katie Coo"), a fair amount of Sen. Chuck Grassley, and a lot of glowing, made-up senators with funny names running around the Senate in funny costumes.
When Politico ran a gushing profile of the series titled "'Auto-Tune' the Latest, Greatest Spoof,'" it was kinda predicated on the notion that it auto-tuned the news. The group is obviously still putting a lot of work and thought into these videos, but they feel more and more like "Weird Al" Yankovic joints and less like the news satire that made the series popular in the first place. To quote one random YouTube comment which is obviously representative of the entire Body Politic, "your really milking it now, its no longer funny!"
Also, there's a T-Pain cameo. It's cool that the Gregory Brothers got to hang out with the man whose name has become synonymous with auto-tune and all, but come on, it's been done before, many a time.
See the latest video and judge for yourself:
If you are reading this, Gregory Brothers, I'm a fan of your past work, but if you want to make a comeback you've got to go back to your roots, like Sinatra in Sinatra at the Sands or Meatloaf in Bat Out of Hell II: Back into Hell.
Have a tip we should know? tips@mediaite.com