Balloon Boy Confirmed Hoax! Sheriff Holds Press Conference; Family Faces Charges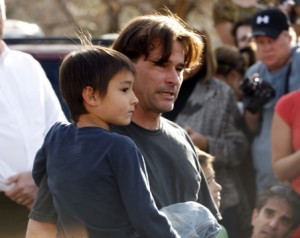 We've been watching the Balloon Boy saga unfold in its fourth day of media coverage. The latest news: The balloon was indeed a hoax, and now Richard Heene, if not his wife Mayumi, will face a battery of charges.
Below: Larimer County Colorado Sheriff Jim Alderden's comments from this afternoon's press conference, and his comments last night. Plus, information about Gawker's exclusive, and all the news from Day 4. Updates here as more news breaks.
(Update 1pmET):
• Press Conference this afternoon (video below): Larimer County Colorado Sheriff Jim Alderden: "It has been determined that this was a hoax, that it was a publicity stunt … done with the hopes of better marketing themselves for a reality show in the future."
Says Richard and Mayumi (Balloon Mom) met in acting school, 'they put on a good show for us.'
Verbal cues on Wolf Blitzer were evidence for the police.
Authorities hoped to interview Mayumi and Richard separately with a polygraph on Friday, but because of distress caused by media polygraph would not have been valid.
Alderden says, One things you folks aren't going to like … Colorado Rule 3.6 and 3.8: We are not allowed under these rules to talk about the results of scientific evidence that is presented. We're not allowed to talk about whether or not polygraph was administered, or what the results were.
Class 4 felony, Class 3 misdemeanor, among other charges pending against Richard Heene.
Going to open evidence bay so press can take photos.
According to media sources, ACLU will represent Richard Heene and Mayumi against charges; couple didn't have an attorney with them yesterday during their encounters with the police.
Authorities think Falcon was in the attic, but "for all we know he could have been down the street playing on a swing in the city park."
Ernie Hudson, Larimer County Undersheriff in charge of investigation: We have to keep an open mind, can't operate on assumptions, have treat the family fairly and make sure they continue to cooperate. "Now there's absolutely no doubt in our mind that this was a hoax, a public relations set-up."
"We don't have the luxury of rushing to judgment or rushing to conclusions."
Yesterday:
• Richard Heene, Balloon Dad, will be charged with at least a Class 3 misdemeanor, if not federal charges, according to an announcement by Larimer County Colorado Sheriff Jim Alderden last night. Later that night, authorities were seen searching the Heene Family home. Alderden also said there will be further announcements in another press conference this morning at 1pmET. Video below …
• Meanwhile, yesterday evening Gawker shelled out for a post called "Exclusive: I Helped Richard Heene Plan a Balloon Hoax," written by one of Heene's students, illuminating the man's character and making a hoax of Balloon Boy magnitude seem pretty likely.
• Yesterday Heene held a press conference of his own, in which he said there was "absolutely no hoax."
Related:
Day 4: Sheriff to File Criminal Charges in Balloon Boy Case
How Much Did Gawker Pay For Proof Balloon Boy Was A Hoax?
Day 3: "Absolutely No Hoax," Says Balloon Boy Dad at Makeshift Press Conference
Day 2: Sad Balloon Boy Saga Continues: Pukes Twice on Live TV
11 Other Kinda Exciting Things Involving People and Balloons
Day 1: Wolf Blitzer Tries His Best To Blow CNN's Balloon Boy Scoop
Busted? Balloon Boy Says "We Did This For A Show"
Internet Made Joke Of "Balloon Boy" While Safety Uncertain
"Balloon Boy" Found Alive; Newsers Prepare "What Was the Attic Like?" Questions
Wall-To-Wall Cable News: Six Year-Old Boy Floats Away In Hot-Air Balloon
Larimer County Colorado Sheriff Jim Alderden's press conference last night this afternoon:


CNN's coverage of Larimer County Colorado Sheriff Jim Alderden's press conference last night:


Have a tip we should know? tips@mediaite.com