Baltimore Sun TV Critic Tears Apart Outgoing Exec Steve Capus' NBC News Tenure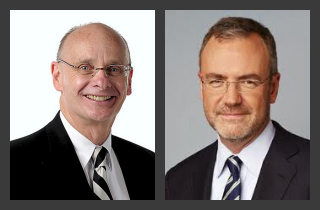 After news broke today that NBC News president Steve Capus will be leaving the network after months of speculation, Baltimore Sun TV critic David Zurawik tore into the outgoing exec's tenure with the broadcast network, blaming him for ratings struggles and the "egregious embrace of ideology at the expense of journalism" at MSNBC.
"While NBC once had the number one morning and evening news shows on his watch, the last two years have been a story of failure for Capus and the network's news division," Zurawik wrote. He pointed to his belief that NBC's morning show Today "has managed to blow what seemed line an insurmountable lead to ABC's Good Morning America," costing the network hundreds of millions of dollars.
Zurawik also went after Capus for his management, hitting him for the "worst" decision to fire Ann Curry from her Today co-hosting gig. He also called Rock Center, a Capus-developed program, "one of the sorriest excuses of a newsmagazine in TV history" and a "rock solid failure in the ratings," hitting the exec for the "millions" he had the company pour into it.
The Sun critic also blasted Capus for hiring Chelsea Clinton as a "special correspondent" for the newsmag program, despite having no qualifications. "How can a news division have any credibility when its president is making such outrageous and patently false claims [about her abilities]?"
And Zurawik wrote that, as the technical head of NBC's sister network MSNBC, Capus deserves some blame for the cable channel's "egregious embrace of ideology at the expense of journalism in the last two years."
Recognizing that his assessment may be viewed as harsh, Zurawik ended the piece: "I'm sorry, but we should be straightforward about such things instead of mouthing corporate P.R. evasions — especially at a time like this when journalistic standards are under siege to the point where democracy is threatened."
— —
>> Follow Andrew Kirell (@AndrewKirell) on Twitter
Have a tip we should know? tips@mediaite.com