President Obama Introduces Norman Rockwell's Painting About Racial Tension Into The White House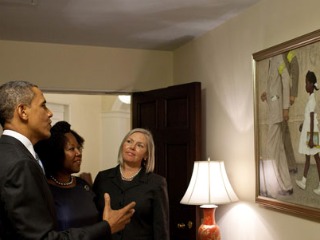 President Barack Obama last month approved the installation of Norman Rockwell's famous work, The Problem We All Live With. The painting depicts the racial tension at play as 6-year-old Ruby Bridges makes her way to William Frantz Elementary School in New Orleans, escorted by U.S. Marshals dispatched by President Eisenhower. Bridges is known as the first black child to attend a formerly all-white school following court-mandated integration. (She lives in New Orleans to this day, where she is now chair of The Ruby Bridges Foundation.)
Politico notes the painting's placement in the White House has never been mentioned by President Obama publicly. But evidently, it was Bridges herself — with the help of Louisiana's Senator Mary Landrieu (D), Georgia Rep. John Lewis (D) and Massachusetts Governor Deval Patrick (D) — who convinced the President to display the painting in the White House:
"It did have a lot to do with this particular president," Bridges said. "He is a president of mixed race. So I believe he is about the same things that I am. You cannot look at a person and judge him or her by the color of their skin. … I did feel if anyone would hang the painting, it would be him."

Last month, Bridges stopped by the White House to see the painting in its new — though temporary — home.

"I think it's fair to say that if it hadn't been for you guys, I might not be here, and we might not be looking at this together," Obama told her, according to a videotape on the White House website.
You can take a look at that video below, which includes a closer look at Rockwell's painting:
The Politico piece is worth a read because it delves deeper into Obama's (public) attitude towards race and racism (An example: "'I can't pass laws that say I'm just helping black folks. I'm the president of the United States,' Obama told [White House reporter April] Ryan in a December 2009 interview. 'What I can do is make sure that I am passing laws that help all people, particularly those who are most vulnerable and most in need. That, in turn, is going to help lift up the African-American community.'"), but it got us wondering: What artistic contributions have former U.S. presidents (and First Ladies) deemed worthy of being showcased in the White House?
Below, have a look at a few of the more controversial, meaningful, powerful and iconic pieces of art that have made their way into the White House (or onto its lawn):
[imageviewer id=95]
h/t Politico
Have a tip we should know? tips@mediaite.com