Beck Touts Conservative Domination of NY Times Bestsellers, Laughs at Piers Morgan Book Sales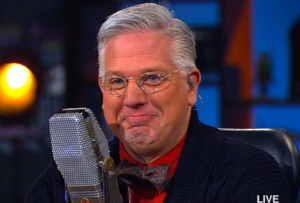 As of today, the New York Times nonfiction best-seller list includes books by Charles Krauthammer, Bill O'Reilly, and Brian Kilmeade, which Glenn Beck touted as a conservative victory of sorts in the book world. He also took a swipe at low book sales by rivals like Joe Scarborough and Piers Morgan, laughing out loud when he heard how well the latter's book is doing.
The aforementioned books by conservative pundits, including new books out by Beck and Rush Limbaugh, have been atop Barnes & Noble and Amazon's bestseller lists as of this week, which Beck said shows a clear "appetite for conservative views" in the United States, in spite of several publishers telling him years ago that "conservatives don't read."
Beck explained how that turned out to be completely false, and noted the weaker book sales among more liberal pundits these days. Piers Morgan happens to have a new book out, including a chronicling of his crusade for gun control, and Beck wanted to know exactly how it's been doing.
Co-host Stu Burguiere said he knew exactly how many books Morgan sold, and explained that even if people were to fairly guess with a low number, it would still be too high. Beck, naturally, really wanted to know the number, and so they turned the microphones off so Burguiere could say the number.
Their immediate reaction was to burst out laughing. Beck and Pat Gray were absolutely stunned at the number, especially considering how much promotion Morgan did for the book on CNN and elsewhere. Burguiere suggested, "It could be that no one cares about Piers Morgan."
Beck could only conclude, "This tells me that the market is wide open, that conservatives now are dominating the book world, and that's gotta be driving people crazy."
Watch the video below, via BlazeTV:
[photo via screengrab]
— —
Follow Josh Feldman on Twitter: @feldmaniac
Have a tip we should know? [email protected]
Josh Feldman - Senior Editor