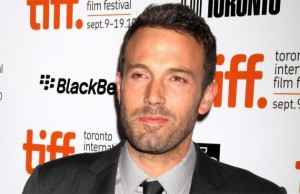 It is becoming increasingly likely that Senator John Kerry will become the next Secretary of State, taking over the position being vacated by Hillary Clinton. But what about the Senate vacancy ? Some pundits are predicting that Scott Brown will go for the Republican nomination, but on the Democratic side, one particular name is getting some attention in political circles: actor/director Ben Affleck.
RELATED: Bill O'Reilly Takes On Ben Affleck Over Iran, Obama, And Raising Taxes
According to CBS Boston's Jon Keller, amongst all the big names being considered to take over Kerry's Senate seat is some surprising talk of Affleck for the position.
Believe it or not, one name I have heard tossed around is that of actor-director Ben Affleck, the pride of Cambridge, who's been active in Democratic Party politics for more than a decade.

Go ahead and laugh if you want to, but keep in mind, anyone who's over 30, a citizen, and able to get 10,000 certified signatures can enter this race.
For his part, Affleck has not commented one way or the other on whether he would run. Affleck is in D.C. this week raising awareness about violence in the Congo, and when asked by POLITICO if he was considering a run, he dismissed the question and didn't state his intentions.
Affleck is not the only celebrity being considered a viable Senate candidate. Actress Ashley Judd is reportedly considering challenging Senate Minority Leader Mitch McConnell for his Kentucky seat in 2014.
And lest you think the Senate is no place for actors, remember, this is the same august body that has welcomed both Fred Thompson and Al Franken.
h/t POLITICO
—–
Follow Josh Feldman on Twitter: @feldmaniac
Have a tip we should know? tips@mediaite.com
Josh Feldman - Senior Editor